Many parents come to me near the end of the school year wondering what's wrong with their children. Sometimes kids know the end of the school year is coming and their mind begins to transition to summertime, and they lose focus. So, whatever time of year you get the call, remember to think about any possible external situation or context that might explain your child's behavior.

An optimist points to the external stressors to explain bad behavior rather than internalizing it. Is your child going through health challenges that might explain her behavior? Are any major changes happening at home? Stressors are usually the first and most probable explanation for disruptive behavior. For example, I know of children who were diagnosed with attention deficit hyperactivity disorder (ADHD) shortly after their parents divorced, but I always tell parents that it is difficult to make a reliable diagnosis of ADHD in the year following a divorce. The dramatic life changes are enough to explain disruptive behavior and changes in focus and attention.

So, if you get a call from a teacher who is concerned about your child, sit down and make a list of stressors happening in your family. These should include financial, family, health, and any reversals the child or family may have experienced. You want the teacher and yourself to see the roots of the problem rather than pointing to your child's brain and looking for a deficit disorder there.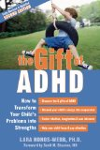 Continue Learning about Living With ADD/ADHD