"There is a growing appreciation within the medical and dental professions of the concept of systems biology, which says that all parts of our body are connected," David Wong, D.M.D., D.M.Sc., professor and associate dean of research at the UCLA School of Dentistry notes.

This appreciation has helped to fuel an emerging field of study: salivary diagnostics. Finding early biological clues of disease in saliva could greatly assist in efforts to prevent diseases or intervene at a stage when treatment is more likely to succeed. Within a few years, a visit to the dentist could include a saliva test to monitor for oral as well as systemic diseases before symptoms begin to develop, says Dr. Wong, who is part of a research team that discovered salivary markers for developing pancreatic cancer.
Continue Learning about Lab Tests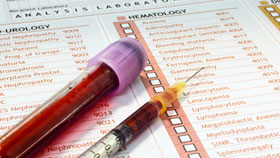 Lab tests are performed to check the health of a patient. Blood, urine and other substances are performed to diagnose, treat or prevent the onset of conditions and diseases.