To collect samples for a fecal immunochemical test, first have all of your supplies ready and in one place. Supplies will include a test kit, test cards, long brushes, waste bags, and a mailing envelope. The kit will give you detailed instructions on how to collect the specimen. The instructions below can be used as a guide, but the instructions on your kit might be a little different. Always follow the instructions on your kit.
Flush the toilet before your bowel movement. After you go, place used toilet paper in the waste bag from the kit, not in the toilet.

Brush the surface of the stool with one of the brushes, then dip the brush in the toilet water. Dab the end of the brush onto one of the slots in the test card or slide.

Close the slot and put your name and the date on the test kit.

Repeat the test on your next bowel movement if instructed. Most tests require collecting more than one sample from different bowel movements. This improves the accuracy of the test because many cancers don't bleed all of the time, and blood may not be present in all stool samples.

Place the test kit in the mailing envelope provided and return it to your doctor or lab as soon as possible (but within 14 days of taking the first sample).
Continue Learning about Lab Tests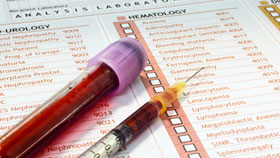 Lab tests are performed to check the health of a patient. Blood, urine and other substances are performed to diagnose, treat or prevent the onset of conditions and diseases.