Mohit Bansal, MD from Largo Medical Center walks through the process of knee surgery in this video.
Jeffrey Silverstein, MD discusses what happens during knee surgery and the process involved in the reconstruction. Watch this video to learn more.
Learn what happens during knee surgery from the moment the patient enters the hospital to recovery. Watch this video with Thomas Marks, MD from Parkland Medical Center.
During knee replacement surgery, your doctor will first modify the bottom section of the femur to accept a new femoral component. Once the femoral component is in place, your doctor will modify the top section of the tibia to accept a new tibial component. A plastic spacer is inserted between the femoral and the tibial components at this time.

Your doctor will access the condition of your patella (kneecap) and if necessary resurface or replace the backside of the patella to better articulate with the new knee components already in place.
For knee replacement surgery, you are positioned on your back. The orthopedic surgeon makes a cut of about eight to 10 inches over your knee. The incision is about half this size for minimally invasive surgery. Moving the kneecap out of the way and taking care to do minimal damage to the muscles and ligaments, the surgeon makes flat cuts to remove damaged sections from the top of the tibia and the end of the femur and to carefully contour the bone to fit the implant. Precision guides ensure that the bone is shaped correctly to fit the implant, an innovation that makes knee replacement far more accurate and successful today than in the 1970s.

The surgeon then puts trial implants in place and tests to make sure that the knee will straighten and bend without wobbling; it takes great surgical skill to properly balance the ligaments and tendons to work with the implant. The surgeon then attaches the implant components to the femur and tibia with cement or screws. If your patella will be resurfaced, the surgeon also attaches a small oval-shaped plastic piece to the back. After the surgeon finishes your knee replacement, he or she will stitch your incisions closed. The total surgical time for a knee replacement procedure is about one to two hours, though you will be in the operating room for longer than that while the surgical team preps you for surgery.
Continue Learning about Knee Replacement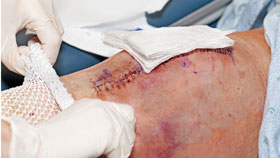 Painful knees are a common problem - often the result of wear-and-tear from sports injuries or obesity, which leads to a degenerative form of arthritis called osteoarthritis. Pain relievers and other treatments can help. When knee ...
damage is severe, a total knee replacement can relieve the pain and allow you to be more active again. Learn more about knee replacement surgery from out experts.
More