How can I delay total knee replacement?
Several surgical procedures can help delay the need for total knee replacement. One option is to surgically repair the meniscus (shock-absorbing cartilage) in people with osteoarthritis and a torn meniscus. A large multicenter trial, known as METEOR, is under way to compare standard physical therapy with knee cartilage surgery as a treatment for people with osteoarthritis (the most common type of arthritis) and meniscal tear. Results should help answer the question of whether surgical treatment is the best option for people with this combination of symptoms.

Osteotomy is another option. During this procedure, the surgeon reshapes the tibia and femur to improve your knee's alignment. The result is better knee function and less pain. You may be a good candidate for osteotomy if you are young, active, or overweight, and if your knee damage is correctable, the damage is primarily confined to one part of the knee, and the area shows no signs of inflammation.

Arthroscopic surgery to remove torn cartilage and small bone spurs (debridement) and to flush out the joint with a saline solution (lavage) is used less often today than in years past after research revealed this technique to be useful in only limited situations.

Biological resurfacing is a method sometimes used in selected cases in young people with damaged cartilage. Cartilage cells can be harvested from a patient, grown and reproduced in a lab, and then reinserted into the patient's knee joint. In a younger patient, the cells have a greater chance of success than in older patients. Generally, cartilage replacement works best in patients with limited areas of cartilage damage, often caused by sports or other injuries.
Continue Learning about Knee Replacement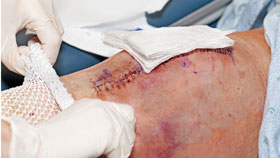 Painful knees are a common problem - often the result of wear-and-tear from sports injuries or obesity, which leads to a degenerative form of arthritis called osteoarthritis. Pain relievers and other treatments can help. When knee ...
damage is severe, a total knee replacement can relieve the pain and allow you to be more active again. Learn more about knee replacement surgery from out experts.
More