If you're trying to heal bad knees, try moving backward on the treadmill or elliptical machine. Exercise scientists found that backward cardio helped improve leg strength and aerobic capacity while placing less strain on injured tissue.
Walking is a great exercise to relieve knee pain. Be consistent in walking 6,000 steps a day and wear proper-fitting athletic shoes. Exercise machines that decrease pounding, such as the elliptical or stationary bike, can relieve knee pain. Resitance exercises that stregthen the muscles above and below your knees are also helpful.
If your knees bother you when you bend them, here's a natural way to help ease the pain: Get strong quads. Research shows that strengthening these key leg muscles can actually help you maintain your cartilage—the stuff that tends to break down as arthritis sets in. The result? Less knee pain.
In a study of people suffering from knee osteoarthritis, having strong quadriceps protected against cartilage loss at a certain area of the knee called the lateral compartment of the patellofemoral joint. Quad strength didn't seem to help cartilage in other important areas of the knee. Still, people with the strongest quads reported less knee pain and better physical function than people with the least strength in this muscle. Know what else is great for knees? Walking backward.
Because knee pain can be a result of either problems at the knee or problems elsewhere affecting the knee it is best to consider exercises which improve movement patterns of the leg to reduce stress on the knee.
Locally at the knee, strengthening the quadriceps muscle group can help. Sit on the floor with the painful knee straight and the other knee bent. Keep your back straight, lean forward and hug the bent knee. Then slowly raise and lower the straight leg.
Now look lower than the knee, at the ankle. If the calve muscles are tight limiting ankle motion. excessive force is transferred to the knee during walking and squatting. Stretch the calves by facing a wall and placing your hands on it for balance. Put the painful foot behind you and point
straight forward. Bend the front foot so you move into a lunge movement but keep the back heel on the ground so you stretch the calf of that leg.
Finally, look higher than the knee at the hip. Improving gluteal strength will improve hip joint control during activities to reduce knee pain. Perform a bridge movement by lying flat on the floor with your knees bent to 90 degrees and feet flat. Lift your hips up off the floor by squeezing your
glutes.
"Ask" how to stretch your calves and how to perform a bridge to find NASM's specific instructions for more description of those exercises.
Overall, if your knee pain is persistent, worsening, or significantly limiting it might be best to be evaluated further by a medical professional.
If performed regularly, these exercises will help increase strength and flexibility and ease knee pain. If your knees hurt, use moist heat applications before and after this exercise.
Lie on your back and bring one knee to your chest. Straighten your leg, pointing your foot toward the ceiling and then bend and straighten it a few times. Repeat with the other leg.
Sit in a chair and support your foot on a table or chair that is of comfortable height. By simply straightening your leg, you are maintaining knee flexibility. Try to keep it as straight as you can and hold it at that point for several seconds.
While sitting with one foot on a table or chair, as above, try raising your toes up so the back of your leg is stretched. Tighten your kneecap by pushing your knee down a little, and hold the contraction for 6 seconds, relax and repeat. Begin gradually and work up to 12 repetitions at one time. Repeat this two or three times a day. You can do this exercise at work or while watching television at night.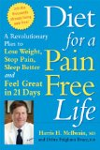 If you find an exercise that feels good, then do it as often as you can. Trust your body, it knows what it likes! In particular, stretches should always feel good.
During the first week or two, I typically begin with stretches such as All-Fours Rocking Stretch (passively restores normal hip mechanics) or tensor fascia lata (TFL) & Quadriceps Stretch (reduces pelvic rotation). Restoring range of motion and getting things moving the way they should always helps healing and reduces pain. The other reason to begin with stretching is that it will allow you to identify the exercise(s) that are doing the most good for you. To properly answer this question one would need to know the cause of your knee pain. If you are experiencing knee pain, seek evaluation from your local orthopedic physician. Most knee pain can easily be corrected by maintaining proper flexibility in the calves, hamstrings and hip flexors. You should also maintain proper flexibility in your IT bands because over activity/tightness there is one of the leading causes of knee pain. You can start with self-myofascial release techniques on a foam roll for the hamstrings, quads, calves and IT bands followed by static stretching and then active or dynamic if you are preparing for activity. Again, have your pain evaluated to find the origin so that you get the proper exercises to relieve it.

Most exercises that help relieve pain involve strengthening the quadriceps muscles and stretching the hamstring muscles. I often recommend closed chain exercises. Closed chain exercises require the foot to be in contact with the floor or a pedal. They include treadmill, elliptical trainer, stair stepper and stationary bike exercises.
Any exercise that you will do regularly and does not increase your pain is the best exercise for you to use. No exercise will truly relieve all your pain but it can reduce your pain and help to make you more mobile.
Continue Learning about Knee Pain