It's super-easy to get wrapped up in the well-being of the child with health problems and not notice fear, jealousy, anger, or loneliness brewing in your other kids. You will need to explain to them that a chronic illness is something their brother or sister may have for a long time, maybe always. Some conditions may improve over time (asthma); some can be managed by diet, exercise, and medication (diabetes); and some may go into remission (cancer).
Your other children may go through some profound changes and struggles as they try to grapple with what this means for their sibling, themselves, and the family. If the child who is sick needs special devices or medicines, your other children may be embarrassed by their sibling's condition, which is natural, but it's important to teach them about the condition and tell them that it is not a reflection on themselves. Other children may tease or be nasty because they don't understand the condition. When this happens, siblings can help allay fears and misinformation about their sib's condition.
From The Smart Parent's Guide: Getting Your Kids Through Checkups, Illnesses, and Accidents by Jennifer Trachtenberg.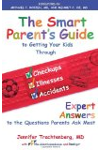 Continue Learning about Children's Health