What limits on screen time are recommended for babies under 18 months old?
Babies under 18 months old should receive no screen time, especially solo time. However, studies are showing that during this critical time for development some screen time with parental supervision can help form certain bonds. Skype or FaceTime, for instance, are excellent tools for connecting young children with family members.

This content originally appeared online at Baptist Health South Florida. https://baptisthealth.net/baptist-health-news/new-screen-time-guidelines-children/?cat=education
Continue Learning about Children's Health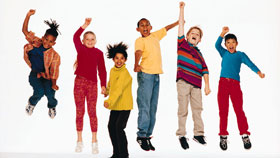 As a parent, you have questions about your kids' health. From common colds, lice, chickenpox and strep throat to eating disorders, obesity and learning disabilities, get the expert answers you need to raise a healthy child, tween, ...
or teen.
More