I unearth quite a bit of information about a child's health by asking both the parent and the child a lot of questions. Important details emerge in the course of these conversations. However, not all pediatricians are as chatty as me. Plus, doctors' offices can be intimidating, even if you aren't the one on the exam table, and you might forget important information that could help your pediatrician care for your child. Jotting down any questions and relevant information before your appointment can help make the most of your child's appointment.
From Good Kids, Bad Habits: The RealAge Guide to Raising Healthy Children by Jennifer Trachtenberg.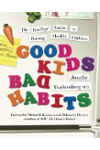 I love when my patients excitedly run in the front door and give me or my nurse a big hug. Yes, this does happen every day at my office, more than you might think. Many children do enjoy going to their pediatrician's office.
How can you prepare your child for a doctor's appointment and encourage them to cooperate and enjoy the visit?
It's never too early to begin talking about the doctor. Kids love learning about fireman, astronauts, zookeepers and even doctors. Get a play doctors kit for home and let your child become familiar with the equipment. Prep your child for the exam and role play. Take this opportunity to teach her body parts such as ears, eyes, nose, mouth and belly button.
Make going to the doctor's office fun. Bring activities to occupy her in case there is a wait. Books and small toys work well. If you have fun, your kids will sense it and enjoy themselves too! A special reward or treat after the visit is a nice tradition. It's important that you try to relax, even if you are nervous about your child's illness. Children sense your own stress and anxiety.
Make every experience positive. Talk about when Mommy and Daddy go to the doctor's office to stay healthy or to get well from an illness. It's all in the presentation so talk up your own experiences. Don't lie to your children and tell them the shot won't hurt. Instead, explain to them that the shot will help keep them from getting sick. It's a quick pinch, but then it's over. Mommy and daddy get shots too to stay healthy. If you are strong and relaxed, they will be too.
If your children are comfortable with their doctor and the office from regular well child visits, sick visits will be easier for them to deal with. Going to the doctor is part of a healthy life and it should be a positive, fun experience.
Continue Learning about Children's Health