Eighty percent of all college freshman admit to never having a conversation with their parents about managing their money. What's more, almost one in four of these same teens say it's just fine to blow as much as $500 without checking in with Mom and Pop.

The findings are hardly a proud parenting moment, but I also hope you are starting to get my drift. The truth is too many kids are flunking financial literacy and one big reason may be that we've failed to teach our children a few essential "money smart lessons."

If you're concerned about your kids' future spending habits, then start your money talk now.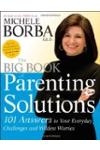 Continue Learning about Children's Health