Avoid it if at all possible. If it's your child's only source of water, let it run for a few seconds before drinking from it, and remind them not to put their mouths directly on it. Also, avoid touching the basin and have them wash their hands after touching the handle.

Continue Learning about Children's Health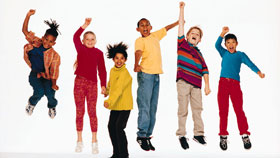 As a parent, you have questions about your kids' health. From common colds, lice, chickenpox and strep throat to eating disorders, obesity and learning disabilities, get the expert answers you need to raise a healthy child, tween, ...
or teen.
More