If you have a special-needs child, finding a good babysitter may seem totally impossible. But it's important to find time to reconnect with your partner or just go out with friends and see a movie or have dinner. So try this:
If possible, reach out to family first. They know your child (and vice versa) and are willing and able to deal with his special needs. If that doesn't work, ask friends if they'll trade babysitting time with you so that there's no money involved and you can both pay back the favor.
Find out if there is a babysitting co‑op in your neighborhood, especially through schools, day care, church, or early intervention classes.
Check with your child's school; there may be young teachers or aides who are looking to make a little extra money on the weekend. Or they may know of someone who is interested in babysitting and has experience dealing with chronically ill children.
Check the American Red Cross. It runs babysitting classes and may have a list of trained high school and college kids looking to earn extra money.
From The Smart Parent's Guide: Getting Your Kids Through Checkups, Illnesses, and Accidents by Jennifer Trachtenberg.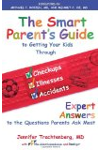 Continue Learning about Children's Health