A varicocele is a dilation of the spermatic veins in the scrotum. Varicoceles are found in many men, but with a higher frequency in the population of men with infertility. The condition may cause a slight increase in the temperature of the scrotum, which is the proposed mechanism of the sperm abnormalities. Men are frequently asymptomatic from a varicocele, but symptoms can include: mild pain, testicular atrophy or shrinking of the testicle, and possible decreased fertility. Erectile dysfunction is not typically related to the presence of a varicocele. If a man is experiencing erectile dysfunction, a full medical work-up is strongly recommended.
Continue Learning about Kidney Disease and Urology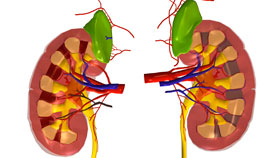 The kidneys are amazing organs. One of the kidney's major functions is to filter and remove waste products and excess fluids from your body. Each and every day, your kidneys filter over 200 quarts of fluid to produce about 2 quart...
s of urine that is stored in the bladder, and ultimately removed through a process called urination. Your kidneys also play an important role in removing drugs, regulating blood pressure, controlling the production of red bloods cells and helping promote strong, healthy bones by producing an active form of vitamin D.
More