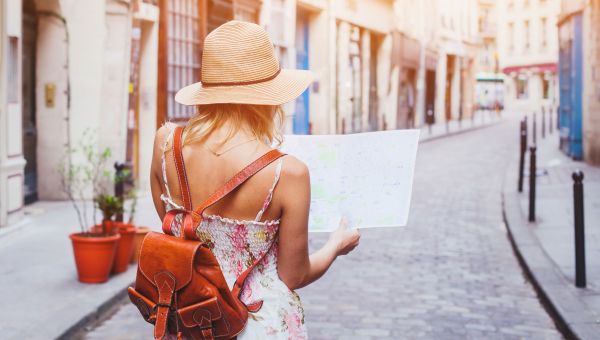 See the sights without getting stuck in the bathroom.
For the 12 percent of American adults with irritable bowel syndrome (IBS), travel can be nerve-wracking. What's alright to eat? Is it okay to bring medication on your trip? What if there's no bathroom? Whether you're headed to the beach, a national park or another country, going into a vacation with a strategy for managing IBS symptoms is crucial—and these smart tips will help you kick back and enjoy the voyage.
Plan ahead for issues
Before your trip, talk to your doctor about the kinds of issues you're likely to have and how to address them. "For those who suffer from urgency or diarrhea, it might be reasonable to take an anti-diarrheal medication (as prescribed by and discussed with your provider) prior to leaving as a preventative measure," says Andrea Shin, MD, a spokesperson for the American Gastroenterological Association and Assistant Professor of Medicine at Indiana University School of Medicine in Indianapolis. She adds that you want to make sure you pack your medications in a place where they are easily accessible when you're traveling.
Take steps to reduce anxiety
You know yourself and the things that make you anxious better than anyone else. And on vacation, while it's important to participate in activities you may enjoy, you should also avoid stressful environments that could heighten anxiety and discomfort, says Dr. Shin. She advises her patients to identify potentially worrisome situations or new activities in advance, and to set aside time for self-care and doing what makes you happy. Whether you love to ride a bike, listen to music or go shopping, by incorporating what you enjoy on a trip, you'll be better able to reduce anxiety, which can trigger IBS symptoms.
Get active
As part of your vacation, you may want to be swimming, boating, biking, hiking and participating in all kinds of activities—and you should. "There are no specific physical activities that need to be avoided in patients with IBS," says Shin. "In fact, regular exercise can be beneficial in reducing IBS symptoms." As a general rule, she recommends 20 to 60 minutes of moderate to vigorous activity three to five days per week. So when you're on vacation, keep it up.
Stick to your med schedule
Even when you're traveling to different time zones, Shin says to stay with your regular pattern for taking medicine. She explains, "For example, if you typically take a medication before breakfast, you continue to do so at your new breakfast 'time.'" If you have other medications that are marked "as needed," she says to pay attention to the prescribed dosing frequencies.
Schedule bathroom breaks
Shin says to plan time to use the facilities before you leave your home base in the morning and at designated breaks during the day. Mapping out bathrooms en route will help you know your options and may also reduce anxiety.
Get adequate sleep
For those with IBS, vacation can be one of those times that you can sneak in some extra ZZZs—or miss out. Shin explains that sleep disturbances can contribute to an increase in IBS symptoms, and recommends maintaining your usual pattern of sleep, including the times you sleep and how much you get. Tap into whatever helps your body and brain wind down—such as meditation or reading—so you can stay on schedule.
Eat smart
"Food triggers can differ for different individuals who suffer from IBS," says Shin, and vacation may not be the best time to deviate from the usual diet that works for you. As with planning for activities or bathroom routes, try looking at menus ahead of time, online or otherwise. You can also limit caffeine and high fat foods, which may be helpful for controlling symptoms. For people with gas, bloating and pain, sticking with a diet that is low in fermentable carbohydrates (FODMAPS) may help, though Shin says this diet can be quite restrictive, so you should consult your doctor.
Don't pass up vacation opportunities if you have IBS. With a little preparation, you can enjoy all the joys of travel.