The signs and symptoms of internal bleeding are:
nausea
cold, clammy skin
trouble breathing after an injury
abdominal pain, tenderness
spitting or coughing blood
bloody vomit or diarrhea (also may appear like coffee grounds)
loss of consciousness with no visible cause
signs of shock
Be suspect if any of the above signs and symptoms accompanies:
An injury to chest or abdomen
A shooting or stabbing wound
A car accident, fall from height or pedestrian injury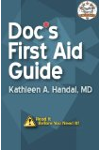 More About this Book
Doc's First Aid Guide: Read It Before You Need It
In a medical emergency, time is of the essence. "Doc's First Aid Guide" is an illustrated, first-aid pocket handbook designed to be used as a quick reference and includes the latest CPR guidelines....
When internal bleeding starts, you may not experience any symptoms, and when you do, symptoms will vary depending on the location of your injury. You may feel pain in the area where the injury occurred. As the bleeding continues, symptoms become more apparent. These include disorientation, weakness, dizziness, and fatigue. In some situations, you may vomit blood or begin to see black and blue bruises on the skin surface. You may also become unconscious or pass out due to a drop in blood pressure.
Continue Learning about Injuries, Wound and Trauma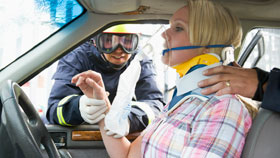 The normal course of daily living ensures that at some point we will injure ourselves. The body is great at healing minor injuries, and first-aid basics will help keep injuries from becoming serious or infected. As we move up to m...
ore serious injuries, again knowing what to do first is important, even if follow-up care must be done by a medic or hospital emergency room. It's always better to prevent injury if you can. Pay attention to hazards that can cause falls. In the kitchen use cutting blocks and sharp knives - they are safer because you use less pressure while cutting.
More