To prevent young athletes from getting heat illness, follow these tips:
The most important thing to do is to make sure they get adequate hydration. Parents should make sure the athlete arrives well hydrated and continues to stay well hydrated if playing in the heat all day.
Make sure that the athlete has access to chilled water and a sports drink for some electrolyte replenishment.
The athlete should avoid caffeinated drinks as these can increase heart rate and perspiration and cause dehydration.
Make sure that the athlete gets frequent breaks.
Coaches should encourage the team to hydrate every time they have a break because the athletes don't realize how much fluid they actually lose through perspiration.
If there is a heat wave, the coach should change practice from the afternoon to the morning, but this is really up to the coach's and/or athletic director's discretion.
In hot weather, the student athlete should wear light-colored lightweight, synthetic clothing.
Instruct the student athlete to remove gear, such as helmet and pads, during rest breaks to cool down.
The school should have medical staff on hand so they can watch for symptoms of heat illness.
Heat illness is best prevented by avoiding being active during the hottest parts of the day, usually between 10 a.m. and 3 p.m. If your student athlete can't avoid being outside during the hottest part of the day, he or she should wear light-colored, protective clothing, sunglasses and sunscreen that protects against UVA and UVB rays. Sunscreen that contains titanium dioxide and zinc oxide offer the best defense because they're physically blocking sun from hitting the skin. In addition to protection, it's also very important to stay hydrated. Water is appropriate for any activity that is an hour or less. Any athletic activity lasting over an hour needs some sort of electrolyte replacement. We usually recommend Pedialyte or its generic equivalent. It's a little more expensive and doesn't taste quite as good as more commonly known sports drinks, but it's the best oral rehydration solution in my opinion. If that is not an option, we suggest Gatorade G2, Powerade Zero or their generic equivalents because the overall sugar content is much less and they still taste pretty good, plus it's cheaper per bottle than Pedialyte.
Athletes, coaches and parents should be advised of the early signs of heat illness, including headache, nausea, dizziness, clumsiness, weakness, muscle twinges or cramps, irritability, apathy and confusion. One or more of these symptoms may be enough to immediately discontinue further activity and seek medical attention.
Part of the responsibility also rests with youth sports administrators and governing bodies that are in control of scheduling and setting guidelines for tournament events in certain sports (junior tennis and soccer are notable examples). Insufficient recovery time between same-day matches increases the risk for poor performance and heat illness during the next competition bout. The same is true for multiple same-day training sessions in the heat. Also, on-site cooling capabilities (e.g., ice packs or ice water immersion) and trained personnel for handling heat illness emergencies should be provided at all hot-weather sports events.
Continue Learning about Injuries, Wound and Trauma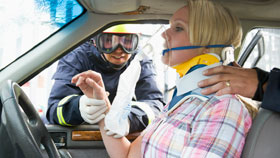 The normal course of daily living ensures that at some point we will injure ourselves. The body is great at healing minor injuries, and first-aid basics will help keep injuries from becoming serious or infected. As we move up to m...
ore serious injuries, again knowing what to do first is important, even if follow-up care must be done by a medic or hospital emergency room. It's always better to prevent injury if you can. Pay attention to hazards that can cause falls. In the kitchen use cutting blocks and sharp knives - they are safer because you use less pressure while cutting.
More