Inflammatory bowel disease is a disorder of the gastrointestinal tract. Learn more from Dr. Eugene Yen on behalf of NorthShore University HealthSystem about inflammatory bowel disease (IBD).
Inflammatory bowel disease (IBD) has a wide variety of symptoms, including persistent abdominal pain, diarrhea, rectal bleeding, fever, and weight loss. Crohn's disease and ulcerative colitis, two conditions that together are referred to as inflammatory bowel disease, often have similar symptoms and are treated in similar ways, yet physicians regard them as distinct.
Crohn's disease can occur anywhere in the gastrointestinal tract, from the mouth to the anus, but it's usually found at the end of the small intestine (ileum), in the colon, or both. It involves the full thickness of the bowel wall and may burrow into nearby organs. The bowel wall becomes thickened as well as constantly inflamed, and leakage of intestinal contents from the bowel can cause internal abscesses. A leak (fistula) that allows intestinal material to pass into the abdomen may require surgery. Severe bleeding is not likely.
Crohn's disease usually appears in young people, who develop pain in the right side of the abdomen, a low-grade fever, and perhaps changes in bowel movements. Some patients develop an abscess or fistula around the anus.
In some cases, surgery is needed to treat a complication of the disease, such as bowel obstruction. About 40% to 60% of those with Crohn's eventually need surgery to remove damaged areas of their small intestine or colon.
Ulcerative colitis is characterized by inflammation of the lining, or mucosa, of the colon. Like IBS, it can cause lower abdominal pain and diarrhea. Unlike IBS, the stool generally contains blood, and bowel symptoms may be accompanied by fever, weight loss, an elevated white blood cell count, and a variety of skin lesions and arthritis. Ulcerative colitis is easier to diagnose than Crohn's disease and is treated with many of the same medications.
Inflammatory bowel disease (IBD) is a common condition affecting more than one million people in the United States.
There are two Components of Inflammatory Bowel Disease (IBD):
Ulcerative colitis: inflammation of the innermost lining of the large intestine and/or rectum
Crohn's disease: inflammation of the lining and walls of the large and/or small intestine. It may also affect other parts of the digestive system and can spread deep into the tissue.
Traditionally, these two conditions were thought to be distinct types of IBD. However, researchers are beginning to think of IBD as a spectrum (or range) of diseases that affect the intestines. Thus, some people may only have symptoms of ulcerative colitis or Crohn's disease, while others may have symptoms of both conditions (known as "indeterminate colitis").
Inflammatory bowel disease (IBD) is a group of chronic diseases in which the body's immune system attacks bacteria in the intestine causing inflammation. It is a group of chronic diseases of the colon and small intestine generally falling into the categories of ulcerative colitis and Crohn's disease.
IBD is a lifelong disease that can be controlled but not cured by medication, although cases of ulcerative colitis may be treated curatively by removing the colon. The illnesses tend to be diagnosed in childhood or young adulthood and are characterized by periods of remission followed by flare-ups of symptoms that can include abdominal pain and cramping, diarrhea, rectal bleeding, vomiting, weight loss and poor growth in children.
"On the outside, you wouldn't know that someone has IBD," says Daniel Hommes, MD, PhD, head of UCLA's new Center for Inflammatory Bowel Diseases. "But on the inside, it's very destructive. A significant number of patients require frequent toilet visits and have problems with pain. Careers and relationships can be affected. The drugs that are available come with side effects and are ineffective in about 20% of patients, who end up needing experimental therapy or surgery."
Inflammatory bowel disease (IBD) is always accompanied by inflammation in the intestinal lining that can be visibly detected by x-ray or colonoscopy, but irritable bowel syndrome (IBS) is not associated with visible inflammation.
Approximately one million Americans are afflicted with IBD and the cause remains unknown. There are two forms of IBD (sometimes called "colitis")—each with a classical triad of symptoms (which are not always present). Ulcerative colitis is characterized by diarrhea, rectal bleeding and abdominal cramping. Crohn's disease is characterized by diarrhea, weight loss and abdominal pain.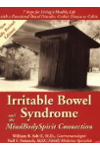 Continue Learning about Inflammatory Bowel Disease (IBD)