Sleep deprivation dampens the production of the antibodies needed to fight infection; whereas allowing yourself to get adequate sleep will buoy your mood and give you more energy to exercise- both of which can help heighten your immune activity. A study in Psychosomatic Medicine found that even minor sleep disturbances cause a significant drop in the number of natural killer cells whose job is to destroy invaders.
Continue Learning about Immune System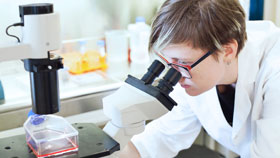 Immune and lymphatic system health is necessary for protecting your body from germs and diseases. Known as the body's first line of defense, your immune system and lymphatic system help protect you from bacteria, viruses and fungi ...
that cause disease. Your lymphatic system produces and carries white blood cells containing antibodies that fight off infection. Your lymphatic system transports and destroys dead or damaged cells and cancer cells, removing these substances from the blood stream. Problems with your immune and lymphatic system can result in various diseases. A weakened immune system can lead to diseases including cancer, the flu and chronic fatigue syndrome. An overactive immune system can lead to diseases including multiple sclerosis (MS), Huntingdon's disease and lupus. Allergies occur when your immune system mistakes harmless substances for threats and attacks these harmless substances.
More