Evidence suggests that vitamin C can stave off the sniffles, particularly in people involved in extreme activities, such as marathon runners and soldiers. Research shows that the incidence of colds in these populations is reduced by 50 percent when subjects consume 250 to 1,000 milligrams of vitamin C per day. A single medium red bell pepper contains 152 milligrams, which fulfills 170 to 200 percent of your daily needs. Other vitamin C sources include citrus fruits and juices, kiwifruits, pineapples, broccoli, cantaloupes, strawberries and tomatoes.
Continue Learning about Immune System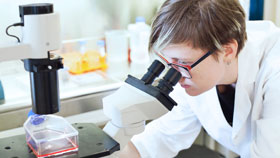 Immune and lymphatic system health is necessary for protecting your body from germs and diseases. Known as the body's first line of defense, your immune system and lymphatic system help protect you from bacteria, viruses and fungi ...
that cause disease. Your lymphatic system produces and carries white blood cells containing antibodies that fight off infection. Your lymphatic system transports and destroys dead or damaged cells and cancer cells, removing these substances from the blood stream. Problems with your immune and lymphatic system can result in various diseases. A weakened immune system can lead to diseases including cancer, the flu and chronic fatigue syndrome. An overactive immune system can lead to diseases including multiple sclerosis (MS), Huntingdon's disease and lupus. Allergies occur when your immune system mistakes harmless substances for threats and attacks these harmless substances.
More