Hyperthyroidism -- a condition in which there is too much thyroid hormone in the bloodstream -- is always a serious condition in the sense that is cannot be ignored, but like most conditions the severity ranges from mild to quite severe, and treatment will vary in proportion. Very mild cases, with only slightly abnormal hormone levels and no symptoms, can often be monitored without treatment. Such cases may remain the same, get worse or even completely resolve depending upon what has caused the condition. Cases in which the thyroid hormone levels are higher or there are symptoms require treatment. The kind of treatment will depend upon the cause of the hyperthyroidism. Treatment may involve medications such as methimazole or propylthiouracil (PTU), radioactive iodine administration, which destroys some of the thyroid cells, or surgery which removes some or all of the overactive thyroid. Some forms of hyperthyroidism are relatively severe but short-lived. Treatment with beta blockers may lessen the symptoms in these cases, or while anti-thyroid medications or radioactive iodine are taking effect in cases that will not resolve on their own.
Yes, hyperthyroidism is serious. It is also treatable and not typically life threatening. When treated, the prognosis is good and symptoms are often greatly reduced and even eliminated. Left untreated, however, this disorder can put significant strain on the heart and several other organs.
Continue Learning about Hyperthyroidism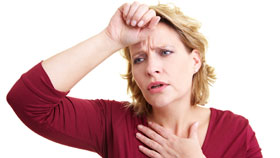 Caused when our body makes too much of a certain type of hormone, hyperthyroidism speeds up your body functions, like metabolism and body temperature. As a result, you may lose weight rapidly, feel your heart beat faster and sweat ...
excessively. A very treatable condition, hyperthyroidism, also known as thyrotoxicosis, affects only about 1% of all Americans.
More