Using tea tree oil and vinegar on the nail can help clear up some infections. But because these compounds can't penetrate deep beneath the nail, they tend not to work when infections are caused by a fungus. One home remedy for nail fungus is to soak the infected areas for five minutes twice a day in five grams of Chinese golden larch bark with two ounces of vinegar. This treatment requires months of application until the new nail is formed. An alternative, especially if the nail fungus is also associated with a skin condition, like athlete's foot: Soak the areas in a mixture that combines a whole clove of garlic and eight ounces of vinegar for five minutes twice a day. You can keep the mixture for a week (Any left over can be used to make pickles?). Another one we've found to work to clear up infections, though we're not sure how or why: Rub the area with Vicks Vapor Rub. Generally speaking, the home remedies are worth trying, because you can't be sure if a nail problem is caused by a fungus or bacteria.
Watch the video to learn more from Dr. Oz about home remedies for nail fungus.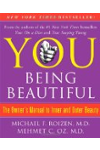 Continue Learning about Home Remedies
Home remedies, vitamins and herbal supplements can effectively treat many minor ailments. However, patients should be cautious of treatments that have not been scientifically evaluated. Some home remedies carry minimal risk, such ...
using duct tape to cure warts, or chicken soup to soothe a cold.
More