Often the most significant reason for lost energy around the holidays is simple carbohydrate and sugar consumption, both of which lead to blood sugar spikes and a subsequent crash! The best thing you can do is eat complex carbohydrates and quality proteins every time you eat sugar and simple carbs; even if it's just a snack while wrapping gifts (this includes you, Santa, as you are eating the cookies we all put out for you), get protein of some kind. As the ancients of Chinese Medicine said: EVERYTHING IN MODERATION. Good luck.
While external stressors play a big role in our energy levels, what we eat and drink are also closely linked!
In addition to ensuring adequate rest (7 - 9 hours nightly) and planning ahead to fit exercise into your day, focus on eating minimally processed foods and staying hydrated to keep energy levels up.
High fat foods can make you feel sluggish so choose lean protein sources such as grilled chicken, roasted white meat turkey, baked fish, beans and legumes, or low-fat dairy, for example. Do your best to eat small meals throughout the day versus eating one or two very large meals, which will cause your energy to plummet. Draw your attention to antioxidant –rich fruits and vegetables such as the seasonal yams, pumpkin, and squash, as well as red grapes, berries, and citrus.
Staying hydrated with proper fluids is exceptionally important as well. Be wary of drinks that do not hydrate such as caffeinated beverages, sugar-sweetened beverages, and alcohol. It's best to opt for drinking water; keep a bottle with you at all times and drink throughout the day and during exercise.
Regarding alcohol, mind the American Heart Association's recommendation to keep intake to no more than two drinks a day for men and no more than 1 drink a day for women. One drink counts as:
12 ounces of a beer or wine cooler
8-ounces of malt liquor
5 ounces of table wine
1.5 ounces of 80 proof distilled spirits such as gin, vodka, whiskey, etc.
The holidays can be a joyous time filled with festivities and family and friends but can also be stressful and exhausting. To help restore your energy try getting 7-9 hours a sleep each night as we need more sleep in the winter time due to the lack of daylight. Breathing and calming exercises like yoga, meditation, tai chi and deep breathing can help restore mood and energy levels and reduce feelings of stress. Making sure to eat a healthy and balanced diet can help too, try to avoid too much sugar and processed foods when you can, and eat plenty of quality lean protein.
Break a sweat. With family visiting, holiday parties, the cold weather, and travel vacations, it's hard to maintain your exercise routine during the holiday season. But exercise can actually give you more energy and help you get through that busy schedule. Although it may seem counter-intuitive, exercise fights fatigue and boosts energy levels. So next time you feel sluggish, go for a walk with your family before dinner, skating at the local pond, or try a ski vacation. Even a sauna bath can help jump start the coach potatoes. You'll boost energy while protecting your waistline!
Continue Learning about Healthy Holidays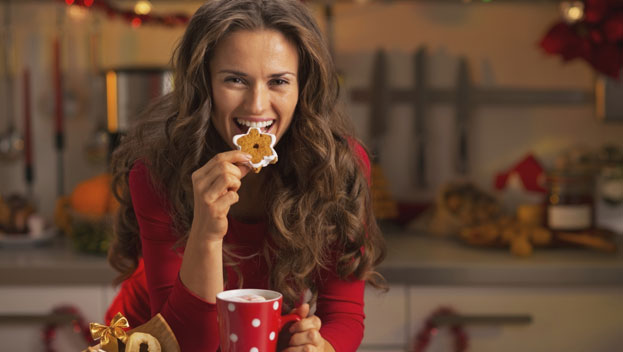 An ER doctor reveals top holiday accidents and ways to prevent them with these Christmas safety tips for happy, healthy holidays.