Coconut oil is a tropical vegetable oil made from the dried fruit (nut) of the coconut tree. It is a saturated fat and solid at room temperature. It is made up of 90% saturated fatty acids and 10% monounsaturated fatty acids and polyunsaturated fatty acids.
Saturated fatty acids undergo different metabolic fates depending on their chain length. Not all saturated fats are bad for you. Unlike long chain fatty acids (LCFAs) which are found in animal products like lard and butter, coconut oil is made up of approximately 65% medium chain fatty acid (MCFAs). MCFAs are absorbed differently into your body than LCFAs and therefore do not have the same effect on raising your cholesterol or increasing your risk for heart disease.
The fact that coconut oil is so high in MCFA is one of the many reasons why the oil has so many health benefits. Once digested, MCFAs go directly to the liver and are instantly converted to usable energy. On the other hand, LCFAs are carried to lipid deposits and accumulate as body fat.
More evidence is needed to determining the connection between coconut oil and reducing cholesterol. Although much research is still needed, the health-promoting properties of coconut oil are increasingly being recognized.
The cholesterol-lowering effects of coconut oil are still inconclusive. Although some studies have found that people (mainly living in the Polynesian areas) who consume large amounts of coconut oil tend to have lower cholesterol levels and higher HDLs (high density lipoproteins) or "good cholesterol", further studies are needed before any conclusion can be drawn. It may simply be that certain societies, such as the Polynesians, have other genetic, diet or lifestyle characteristics that lead to lower cholesterol levels. A study in the journal Lipids found that women consuming 1 ounce of coconut oil had no detrimental changes to their cholesterol.
Continue Learning about High Cholesterol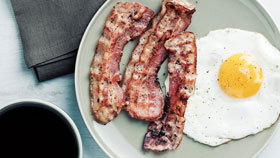 Although blood cholesterol helps digest food and make hormones, too much of it can harden your arteries and cause heart disease. Also known as hypercholesterolemia, high blood cholesterol can accumulate along the walls of your art...
eries, the main supplier of oxygen from the heart to other parts of your body.
More