Amaranth flour can be found in prepared cereals and other baked goods, such as crackers, cookies, and breads, and is also available packaged as a whole grain flour. Because amaranth seeds contain fairly high levels of beneficial polyunsaturated fats, once they have been ground into flour, it is best to store the flour in an airtight freezer bag in the refrigerator or freezer. This will protect the flour's more vulnerable fatty acids from becoming rancid. Stored in the refrigerator, amaranth flour will keep for two to three months. Stored in the freezer, the flour will keep for up to six months. Amaranth seeds can be found in most natural food stores sold packaged and, less expensively, in bulk. Air, moisture, and sunlight can cause amaranth seeds to mold and their oils to go rancid. Do not purchase or use amaranth seeds that have a musty or bitter smell, both of which indicate spoilage. Also, look for seeds that are uniform in color. Occasionally, you'll find a few very bitter black seeds mixed in. These are seeds from wild pigweed that have managed to gain a foothold among the cultivated amaranth plants. Don't worry about picking them out; their flavor will not dominate that of the true amaranth seeds.
Stored in a cool, dark, dry place in an airtight container, such as a glass jar, amaranth seeds, which have a hard outer shell, will keep for one year or even longer. If purchased in vacuum sealed packaging, once the package has been opened, the seeds are best stored in the refrigerator, where they should keep for an additional six to eight months. Cooked amaranth seeds will keep for three days refrigerated, and cooked leaves will keep for one to two days refrigerated.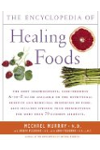 More About this Book
Encyclopedia of Healing Foods
From the bestselling authors of The Encyclopedia of Natural Medicine, the most comprehensive and practical guide available to the nutritional benefits and medicinal properties of virtually everything...
Continue Learning about Herbal Supplements