Brewer's yeast is a superfood that's an excellent source of B vitamins, especially B5, and chromium; it's a powder you can eat with many foods. Watch naturopathic doctor Natasha Turner, ND, explain the benefits of adding brewer's yeast to your diet.
Nutritional brewer's yeast has been shown to keep homocysteine levels low; lower triglycerides and raise high-density lipoprotein (HDL) levels while reducing low-density lipoprotein (LDL) levels, help control blood sugar, protect against liver cancer, and help clear up acne.
By serving as an excellent source of all the B vitamins, brewer's yeast keeps homocysteine levels low. A good deal of research has shown a very strong association between elevated blood levels of homocysteine-an amino acid that is an intermediate product created during an essential cellular process called methylation-and cardiovascular disease and some forms of cancer.
Brewer's yeast also helps lower triglycerides and raise levels of HDL (good) cholesterol while reducing LDL (bad) cholesterol. In one study, a group of 11 men with normal cholesterol levels and 16 men with elevated cholesterol were given 20 g daily of a high-chromium brewer's yeast. After eight weeks, not only had HDL cholesterol increased in both groups by 5 to 6 mg/dl, but in 84 percent of the men, the total cholesterol to HDL ratio improved significantly.
Brewer's yeast can also be an excellent source of selenium. Plus, the selenium in brewer's yeast is almost all in the form of selenomethionine, an organic form in which selenium is complexed with a molecule of the amino acid methionine and that studies have demonstrated is more bioavailable than nonorganic forms of this trace mineral.
Selenium is a necessary component of the enzyme glutathione peroxidase, which is essential for protecting the liver from the free radicals created during the detoxification process. In addition, this selenium-activated enzyme protects cell membranes against oxidative damage, which can lead to the premature aging of cells throughout the body.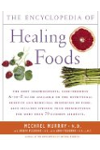 More About this Book
Encyclopedia of Healing Foods
From the bestselling authors of The Encyclopedia of Natural Medicine, the most comprehensive and practical guide available to the nutritional benefits and medicinal properties of virtually everything...
Continue Learning about Herbal Supplements