Hypertrophic obstructive cardiomyopathy is the most common cause of sudden death in people under the age of 30. The disease can be congenital in young people or acquired in the elderly. The disease involves the abnormal thickening of heart muscle, which often leads to obstruction of the flow of blood out of the heart and to symptoms of heart failure, myocardial ischemia and sudden passing out.
The contents of this website are for informational purposes only and are not intended to be a substitute for professional medical advice, diagnosis, or treatment. Nor does the contents of this website constitute the establishment of a physician patient or therapeutic relationship. Always seek the advice of your physician or other qualified health provider with any questions you may have regarding a medical condition.
Patients with hypertrophic obstructive cardiomyopathy have abnormally thickened walls of the left ventricle, the heart's main pumping chamber. The interventricular septum - the wall of muscle between the two ventricles of the heart - is often excessively thickened. This thickened wall can interfere with the function of the mitral valve and can block the flow of blood out of the heart. The inefficient blood flow causes the pressure in the heart to increase, making the left ventricle work harder, resulting in further thickening of the walls of the left ventricle over time. Symptoms associated with HOCM can include chest pain, shortness of breath, palpitations, syncope (sudden fainting), and even sudden death.
Treatments for HOCM include medication to control the heart's contraction, insertion of pacemakers to prevent arrhythmias, and when medications fail - surgical resection of the thickened septum, making it thinner. alcohol septal ablation as an alternative to surgery in select patients. This relatively new treatment for HOCM actually reduces the obstruction and improves blood flow out of the heart. In addition, it often improves the function of the mitral valve.
Continue Learning about Heart Disease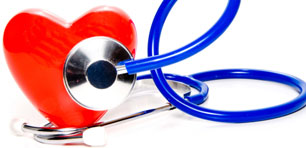 Heart disease is the number one killer of adults in the United States. In fact, one in every three deaths is from heart disease and stroke, equal to 2,200 deaths per day. Taking care of your heart is essential for a long life. You ...
can treat your ticker right by eating healthy, staying active and managing your stress.
More