Factors that increase your risk for heart disease include:
Smoking tobacco
Sedentary lifestyle
High blood pressure
Low high-density lipoprotein (HDL) and high low-density lipoprotein (LDL) cholesterol
Diabetes
Overweight and obesity
Stress
This content originally appeared on doctoroz.com
Your risk for coronary heart disease is increased by the following:
Tobacco use (the number 1 reversible risk factor in the country)
Diabetes
High blood pressure
High cholesterol
Obesity
If you are a man under age 40 or a woman who has not yet gone through menopause, you probably do not have coronary artery disease (CAD) to any great extent. However, the likelihood increases as you age. The risk also is higher if you smoke; have high blood pressure, diabetes, or high cholesterol levels; lead a sedentary lifestyle; eat an unhealthy diet; or have a family history of heart disease.
Your risk for coronary heart disease is a combination of hereditary and lifestyle factors. African-Americans and Latinos, men over 45, women over 55, and individuals with a family history of heart disease are at the greatest risk. Lifestyle factors include high blood pressure, high LDL cholesterol (also known as "bad cholesterol"), diabetes, smoking, obesity, and physical inactivity. The presence of multiple factors can compound and make your overall condition worse. For example, obesity can lead to diabetes and high blood pressure.
Some individuals develop coronary heart disease without any traditional risk factors. Scientists are researching whether elevated levels of some proteins and amino acids can indicate the presence of atherosclerosis, and thus be considered risk factors.
The heart is one of the most important organs of the human body as it pumps blood throughout the body delivery much-needed nutrients to the essential systems. Being that the heart is such an important organ it must remain healthy over the entire lifespan of an individual. However, there are individuals who develop atherosclerosis, also known as coronary artery disease, which leads to a myocardial infarction.
Atherosclerosis describes the process by which the blood flow to the heart is greatly decreased by a blockage as the smooth stretchy lining inside the coronary arteries becomes clogged with plaque. This blockage in turn leads to the decrease of the flow of blood and oxygen throughout the body. As this happen the levels of oxygen that the body demands in order to function become much greater then that which is being supplied. Therefore, the combination of clogged arteries along coupled restricted blood flow and the levels of oxygen lead to coronary artery disease. As the cardiac muscles cells are restricted of oxygen and begin decaying the rest of the body's organs do not receive the oxygen they need in order to survive which in turn causes a myocardial infarction.
A myocardial infarction, also known as a heart attack, can cause many life long changes to the body as heart valves are damaged. Additionally, the ventricles of the heart can develop a hole in between them causing incorrect blood flow thus overworking the heart and leading to difficulties in the lungs. A heart attack can even cause blood clots that can lead to a stroke. Additionally, the heart can become extremely weak as a result of the heart attack, thus causing life long disabilities that can affect an individual on a social and personal level.
Studies have shown that there are many culprits for the development of coronary artery disease such as Endothelial Dysfunction, Free Radicals, Blood LDL's, Elastase, Glycation, Heat Shock Proteins and Insulin-like Growth factors.
Each individual risk factor increases your relative risk for heart disease. But there is no simple equation. Some risks are within your control, including your diet, level of physical activity and tobacco use. With proper attention to those lifestyle risks, you can reduce the impact of other risk factors that cannot be changed, such as your age, gender, race, family history and your genetic traits. Modifiable risk factors can cause severe damage to your body if left uncontrolled.
Even if you don't smoke, a combination of other risk factors—high blood pressure, high cholesterol, obesity and pre-diabetes—significantly increases the threat of heart disease. The presence of multiple risk factors expands your risk, not in an additive way of 1+1= 2, but in a multiplicative way.
Here's how the math works: If you have two or three risk factors, the risk of heart disease could be multiplied by at least eight or nine. This scenario is common.
A majority of people with high blood pressure also have elevated cholesterol.
As we improve our cholesterol and blood pressure readings, we actually reduce our risk of heart disease.
Coronary heart disease, also called coronary artery disease, is when plaque builds up on the inner walls of the coronary arteries. Plaque narrows the arteries, restricting the flow of oxygen-rich blood to your heart.

The most common risk factors include high blood pressure, high blood cholesterol, diabetes, age and a family history of coronary heart disease.

Other major risk factors include obesity or being overweight, smoking and a lack of physical activity or not exercising regularly.

An unhealthy diet can also contribute to some of these risk factors, including high blood cholesterol and diabetes.
Continue Learning about Heart Disease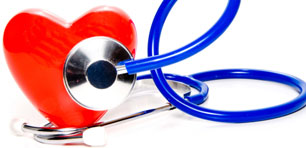 Heart disease is the number one killer of adults in the United States. In fact, one in every three deaths is from heart disease and stroke, equal to 2,200 deaths per day. Taking care of your heart is essential for a long life. You ...
can treat your ticker right by eating healthy, staying active and managing your stress.
More