Following are things you can do to help prevent heart disease and heart attacks:
Don't smoke. Smoking is the number one reversible risk factor for heart disease and heart attacks.
If you have diabetes, make sure you're watching your diet, watching your blood sugar, and are on the correct medications. Make sure you visit your doctors, and make sure that they've checked your cholesterol and blood pressure to keep you on the straight path. The worst thing you could do as a diabetic is to smoke.
Stick to a low carbohydrate, low saturated fat diet like the Mediterranean diet. Eat plenty of fruits and vegetables. Eat more lean meats like chicken and fish, and try to stay away from beef and prime ribs. On top of that, stay away from white bread, sugars and soft drinks. These are really wasted calories and only going to make things worse. Also, one glass of red wine a day is recommended.
Try to reduce stress. Stress is a source of inflammation in the whole body and can contribute to overall heart attacks. There's actually a stress-induced heart attack that can occur.
Trinity Health is a Catholic health care organization that acts in accordance with the Catholic tradition and does not condone or support all practices covered in this site. In case of emergency call 911. This site is educational and not a substitute for professional medical advice, always seek the advice of a qualified health care provider.
There are many steps you can take to help prevent heart disease (and heart attacks), but they all require being proactive and taking action to control your risk factors. Start with the following activities:
If you smoke, quit. Smoking is one of the strongest risk factors, and thereby strongest predictors of not only heart disease, but almost all vascular disease, including peripheral vascular disease. Talk with your primary care doctor about programs and products that can help you quit. Also, try to avoid secondhand smoke.
Manage your blood pressure. Hypertension (elevated blood pressure) is a risk factor for heart disease. Your doctor will check your blood pressure as part of your routine wellness checks. If your blood pressure is elevated, talk to your doctor about treatment, including lifestyle changes and possibly pharmacologic treatment.
Know your cholesterol. Hyperlipidemia (elevated cholesterol numbers) is a strong risk factor for heart disease. Get a screening lipid panel and talk to your primary care doctor about the results. Based on your results and risk factors, your doctor will decide if you warrant further treatment.
Avoid diabetes. People with diabetes are at high risk for developing heart disease, so much so that diabetes is considered a heart attack equivalent.
Know your family history. Family history of heart disease, particularly at younger ages, puts you at risk for developing heart disease yourself, and is taken into consideration by your doctor to determine your overall risk for heart disease.
Maintain a healthy and nutritious diet. A healthy diet includes a variety of vegetables and fruits. It also includes whole grains, fat-free or low-fat dairy products, and protein foods, such as lean meats, poultry without skin, seafood, processed soy products, nuts, seeds, beans and peas.
Reduce stress, as stress can bring about heart disease. Find ways to manage your stress, by engaging in activities that you enjoy.
Exercise. Regular exercise will help prevent heart disease, and it will help prevent you from developing risk factors that are associated with heart disease.
A heart attack can be prevented with a healthy lifestyle. Maintaining a diet that includes ample fruits and vegetables will encourage healthy cholesterol levels. Limit your salt intake to reduce high blood pressure. Lose weight, lower high blood pressure, and manage stress by getting regular exercise. Avoid all smoke by not smoking yourself and staying away from second-hand smoke. If you think you may be at risk for a heart attack, see your doctor regularly.
It is important for you to understand your risk factors for having a heart attack or heart disease. If you understand what they are then you can change your lifestyle to reduce your risk factors and your chance of having a heart attack. Risk factors that can be reduced are: smoking, obesity, high blood pressure, high cholesterol, high blood sugar, lack of exercise. You can reduce your chances by reducing your risk factors. Do not smoke, if you are overweight lose weight, if you have high blood pressure take your medications as your doctor prescribes and reduce the amount of salt you eat, if you have high cholesterol take your medication as prescribed and eat a diet low in fat, if you are diabetic take your medication as prescribed and follow your diet as prescribed, try to exercise per your doctor's advice.
Let's say that, by the numbers, your heart looks to be in great shape. Your weight's down. Your waist is trim. Your LDL (bad) cholesterol levels are under 100, and your blood pressure's pretty good (we like 110/70). Whew. One less thing to sweat, right? Not quite. Nearly half of all heart attacks happen to people whose tickers look as good as yours, so doing a little extra might save your life. Here are seven tips to avoid hidden causes of heart attacks:
Avoid air pollution.
Don't stop taking baby aspirin.
Take care of your kidneys.
Know your siblings' heart health.
Manage rheumatoid arthritis, psoriasis, or lupus.
Repair an unhappy relationship.
Use your vacation time.
There are many things that can increase a person's risk for a heart attack. Some of the risk factors are under your control. Risk factors that are within your control include smoking, lack of physical activity, obesity, illegal drug use, excessive alcohol use, and a stressful lifestyle. There are also specific diseases that increase the risk of a heart attack including high blood pressure, diabetes, coronary artery disease, and high cholesterol. Your doctor may be able to help you control these diseases with lifestyle modification or medication. Then there are risk factors that are out of your control such as age (45 or older if you are male, 55 and older if you are a female) and family history.
The best protection against coronary artery disease is to prevent it from happening in the first place. Poor diet, lack of exercise and years of bad lifestyle habits take their toll on the heart. Still heart disease can be prevented if you are willing to stop the assault and adopt a healthy lifestyle from this day forward.

Here is Dr. Oz's advice for preventing heart attacks:
Learn your risk
If you smoke, stop
Perform moderate exercise for at least 20 minutes on most days
Eat a heart-healthy diet low in saturated fat and high in fruits, vegetables nuts and legumes
Maintain a healthy weight and waist
Control high blood pressure
Manage abnormal cholesterol
Control high blood sugar
Drink alcohol in moderation
Practice stress reduction techniques
Maintain a good balance between personal and professional life
Be vigilant about taking medications to control risk factors
Take one aspirin daily if you are in a high risk category
This content originally appeared on doctoroz.com
I can prevent heart disease and strokes by modifying my risk factors including avoiding tobacco, keeping my blood pressure controlled, and my weight controlled. Routine exercise is necessary with 45 minutes three times a week or 30 minutes a day as tolerated. By seeing your doctor he can go through your risks including your family history, genetic risk and go over the other risk factors that might help, such as reviewing your cholesterol with you, your blood pressure, your blood sugars, and weight with you. It is clearly worth a strong effort in this regard to prevent both heart disease and strokes, as the heart and the brain are fed by the same types of vessels and what affects one will affect the other. Another way of looking at this is if you help you vessels and your heart, you are also helping your brain and therefore reducing the risk of both heart disease and strokes.
After your heart attack, your doctor will discuss risk factors and possible medications, surgery, or procedures. There are actions that your doctor will take (like performing surgery or prescribing medicine) as well as risk factors out of your control (age, gender, etc.).

But you want to learn what actions you can take personally and proactively to heal your broken heart. Think of this as the beginning of a lifelong conversation about the lifestyle changes you are willing to make to help yourself and your heart.
Medical experts unanimously agree that the most important things you can do to prevent another heart attack are the following:
Quit smoking.
Get more physical activity.
Eat heart-healthy foods.
Maintain a normal weight.
Go to a cardiac rehabilitation program.
Take medications.
Even if you were dealt a bad hand due to a family history of heart disease, you can fight back by controlling what you eat and your physical activity. Better lifestyle habits can dramatically reduce your risk for another heart attack and even reverse heart disease. Hearing this from your doctor is your most important first step to inspire you to make changes during your recovery.
Of course, for most people, these changes are much easier said than done, especially if they belong to the couch potato club. This is why starting and sticking with a cardiac rehabilitation program is vital. Your goal is to improve your lifelong health habits.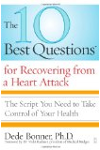 Continue Learning about Heart Attack