One of the most frustrating things about the inability to fall asleep is that it can actually get worse the more you think about it. First, try to relax and just rest if you are unable to sleep. If after 25-30 minutes you cannot fall asleep it may be best to get up and go into another room until you are sleepy . Of course, any activity should be mild in nature and you should avoid bright light sources (including television) if possible, as this may make your insomnia worse. Once you feel yourself getting tired again try returning to bed and allowing your body to relax. Mental distractions can also be helpful; my favorite is asking people to count backwards from three hundred by threes. This is great because while it requires enough mental energy to distract you from the thoughts keeping you awake, it is also such a boring activity that you relax enough to fall asleep. Other techniques can include progressive muscle relaxation or guided imagery.
We all think that if we lie in bed long enough, sleep will come. Instead, our minds tend to get busier and our muscles tenser as we stress over being awake. Give it a rest. If you can't get to sleep within 20 minutes, slip out of bed and go to a safe haven -- a place that's comfy, has dim lighting, and no distractions. Just sit comfortably. Or do your breathing exercises. Or read. No e-mail, TV, or other electronics though. The point is to give your mind-body a respite from trying so hard to nod off. After 20 minutes or so, go back to bed and see what happens when you're more relaxed. Repeat once or twice if necessary.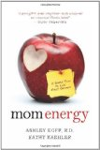 More About this Book
Mom Energy: A Simple Plan to Live Fully Charged
       From celebrated dietitian Ashley Koff and fitness trainer to the stars Kathy Kaehler comes Mom Energy, an exciting new way for moms to tap into their own natural and renewable sources of...
Tossing and turning works for salads, not sleep problems. If you can't fall asleep within 15 minutes, the answer is not to keep trying. Don't force yourself to stay in bed, because the wait will be interminable. Instead, get out of bed and do some light activity. Getting your mind off sleep resets and reboots your system. Try a yoga pose, meditation, a chi-gong movement, or a short walk. To get back to sleep, music and meditation seem to work best.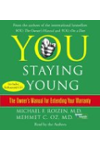 It happens: You go to bed tired only to find yourself tossing and turning. If this happens to you, get up and try one of these sleep remedies: Read a book until you feel drowsy; do some slow, gentle stretches and deep breathing exercises or try scenting your pillow with lavender. If it's nagging or racing thoughts that won't let you nod off, try jotting down your worries on paper so you can sleep better.
The first thing to do if you often have trouble falling asleep is to try to figure out why. Things that may make it more difficult to fall asleep include having caffeine in the afternoon or evening, drinking alcohol in the evening (it may make it easier to fall asleep, but not stay asleep), unresolved issues that are causing you anxiety or stress, and lack of exercise. If taking care of the above issues doesn't help you fall asleep, you could consider taking the supplement melatonin or seeing your primary care physician.
Continue Learning about Healthy Sleeping