The best way to reset your body clock to sleep better is awareness of the cues that set that clock; waking at the same time every day helps set that rhythm. Watch internist and sleep expert Carol Ash, DO, explain why good sleep habits are important.
If you can't adjust your life to your body's preferred sleep schedule, there are a few techniques to reset your internal clock:
Light therapy, which involves exposure to a full spectrum lamp, LED light, or sunlight, for 30 to 90 minutes upon wakening. Light therapy is often paired with darkness therapy, or dimming the lights a few hours before bedtime.
Chronotherapy attempts to reset your body's internal clock by manipulating bedtimes. This therapy can sometimes involve controlled sleep deprivation, so it's important to consult a doctor before attempting chronotherapy.
Melatonin, taken an hour before bedtime, can often induce sleepiness.
You'd be amazed by the power of sleep when it comes naturally just by regulating your sleep habits. Your body will respond and adapt to the sleep cycle you put it on. If your body clock is truly off, try getting some natural morning sunlight on you, do some exercise during the day, don't stay up until the wee hours of the morning cleaning house, and set aside time to wind down before bedtime. Yes, it's as simple as that!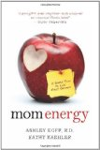 More About this Book
Mom Energy: A Simple Plan to Live Fully Charged
       From celebrated dietitian Ashley Koff and fitness trainer to the stars Kathy Kaehler comes Mom Energy, an exciting new way for moms to tap into their own natural and renewable sources of...
Continue Learning about Healthy Sleeping