When skin is well-hydrated, it is more plump and resilient. This is due, at least in part, to an ingredient in the skin called hyaluronic acid. The job of hyaluronic acid in the skin is to hold water. When there is adequate water from inside and out the skin looks healthier and more vibrant and is less prone to wrinkles. It is important to drink lots of fluids throughout the day for best results. You've probably heard that drinking six to eight glasses of water a day is a good idea but you may need more or less depending on your activity level. Coffee and sodas do not count as water because they contain caffeine which is a diuretic, meaning that they draw water out of your system and your skin.
In order for the skin to protect our bodies from UV radiation, microorganisms and toxic agents, it must be kept adequately hydrated. Hydrated skin will remain flexible and allow our protective barrier to remain intact. If skin is broken, environmental factors can damage our bodies and cause exacerbated water loss, feeding a cyclical pattern of more damage due to further dehydration.
Continue Learning about Healthy Skin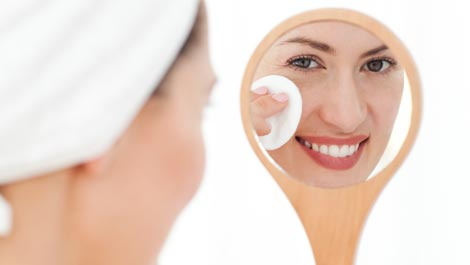 Staying out of the sun and away from tanning beds is the easiest way to get great-looking skin. The suns UVB and UVA rays cause skin damage, which is prematurely aging, and skin cancer. Every day you should wear a broad-spectrum s...
unscreen, which blocks UVB and UVA rays, with an SPF of 15 or higher. Reapply at least every two hours while outdoors. For a dewy glow, use skin-care products with 10 ingredients or less to reduce irritation, use moisturizer and feed your skin from within. Dark chocolate and antioxidant-rich foods such as cantaloupe, citrus fruits, blueberries and leafy greens improve the skin's appearance.
More