There are five main skin types: normal, dry, oily, combination, and sensitive. Many people have the combination type, in which some parts of the skin are oily while other parts are dry. For example, your forehead, nose, and chin may be oily, while your cheeks are dry. Oily skin is especially common in teenagers, but many adults have oily skin as well. Sensitive skin is more prone to irritation. Knowing your skin type can help you create an optimal skin care routine. If you have dry skin, for example, you should wash your face only at night, rather than several times during the day. Talk to your dermatologist about your skin type and the best ways to care for your skin.
All that time in front of the mirror, in the shower, and at the nude beach has likely given you some pretty good insight into what type of skin you have. But there's more to skin intelligence than just knowing whether you're happier exposing it or concealing it. Take this test to determine your skin type.
Does your skin look dull or flake like a snow globe?
Does your skin look like a bathroom floor with a shiny, slippery texture?
Does your skin feel itchy and taut like sausage casing?
Do you have pores that are enlarged like craters, or clogged pores, or acne?
Does your skin react to cosmetics containing alcohol, synthetics, fragrances, and artificial colors?
Does your skin appear consistently moist, vibrant, and plumper than a squishy cantaloupe?
Do your forehead, nose, or chin appear oilier than a fast-food kitchen, while the skin around your cheeks, eyes, and mouth is normal or dry?
If you answered yes to 1 or 3, you have DRY skin.
If you answered yes to 2 or 4, you have OILY skin.
If you answered yes to 5, you have SENSITIVE skin.
If you answered yes to 6, you have NORMAL skin.
If you answered yes to 7, you have COMBINATION skin.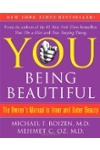 Continue Learning about Healthy Skin