Effective hand-washing is the easiest and simplest way to prevent disease and infection. Watch as Debbie Wilkinson, RN, of Trident Medical Center explains the proper technique for getting your hands really clean.
Watch Liz Rigney, RN, of HCA Englewood Community Hospital, discuss the areas people often miss when hand washing.
There are lot of different suggestions out there for hand washing, some say as long as two minutes, but you should wash hands with warm water for at least 20 seconds. And just as important as washing your hands is drying them. Just make sure you spend a little time at the sink, using warm water and making sure that you not only wash the top of your hands and interlock your fingers so you get all the nooks and crannies.

Proper hand washing may eliminate nearly half of all cases of foodborne illness and significantly reduce the spread of the common cold and flu.
When you wash your hands:
Hands should be washed in warm, soapy water before preparing foods and after handling raw meat, poultry and seafood.
Always wash your hands front and back up to your wrists, between fingers and under fingernails.
Never forget to wash your hands after switching tasks, such as handling raw meat and then cutting vegetables.
Dry hands with disposable paper towels, clean cloth towels or air dry.
Sing two choruses of "Happy Birthday" while you lather up, cleaning your hands for 20 seconds.
Follow these hand-washing guidelines:
Scrub your hands with soap and warm running water for 10-15 seconds.
Rinse well after scrubbing.
Use a paper towel to turn off the faucet. This will keep you from picking up viruses or bacteria from the faucet.
If your hands are not visibly soiled, you can use antimicrobial hand sanitizer instead of washing.
According to the CDC, washing your hands correctly means wetting them under cleaning running water, adding soap, rubbing your hands together to make lather, scrubbing, rinsing, and then air drying your hands or drying them with a clean towel. This whole procedure should take at least 20 seconds. How long is 20 seconds? Silently sing the "Happy Birthday" song to yourself, twice, and you will have nailed it.
Wash your hands for a minimum of 15-20 seconds. This equates to the amount of time it would take to sing "Happy Birthday" twice. Use warm water and a mild cleanser, so as not to strip your skin of its own natural moisture. Remember to wash not only your hands, but also your wrists, in between your fingers and under your fingernails.
The best way to wash your hands: Use soap, lather up for at least 20 seconds, dry your hands with paper towels, and use those towels to open the door. Watch public health specialist Peter DeLucia, MPA, explain the healthiest way to wash your hands.
It's generally best to wash your hands with soap and water. Follow these simple steps:
Wet your hands with running water.
Apply liquid, bar or powder soap.
Lather well.
Rub your hands vigorously for at least 20 seconds. Remember to scrub all surfaces, including the backs of your hands, wrists, between your fingers and under your fingernails.
Rinse well.
Dry your hands with a clean or disposable towel or air dryer.
If possible, use your towel to turn off the faucet.
Keep in mind that antibacterial soap is no more effective at killing germs than is regular soap. Using antibacterial soap may even lead to the development of bacteria that are resistant to the product's antimicrobial agents—making it harder to kill these germs in the future.
Soap and water work best for killing viruses on your hands. For the most effective cleansing, follow these steps:
Wet your hands with clean running water and apply soap.
Rub your hands together, scrubbing them well.
Sing the Happy Birthday song twice from beginning to end or wash for 20 seconds.
Dry your hands using a clean towel or air dry.
The proper technique for washing hands involves wetting the hands, dispensing soap, and then working up a lather. Hands should be scrubbed for at least 20 seconds, making sure to wash all surfaces, including your palms, the backs of your hands, in between your fingers and under your fingernails. Some people sing "Happy Birthday" twice through to make sure they have scrubbed their hands long enough. Rinse your hands with running water, and dry with a clean paper or cloth towel.
Continue Learning about Healthy Skin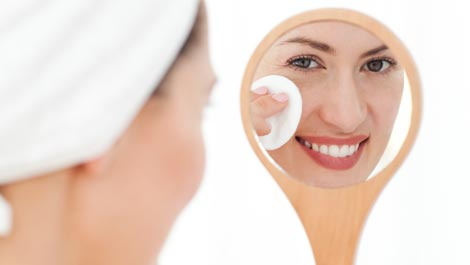 Staying out of the sun and away from tanning beds is the easiest way to get great-looking skin. The suns UVB and UVA rays cause skin damage, which is prematurely aging, and skin cancer. Every day you should wear a broad-spectrum s...
unscreen, which blocks UVB and UVA rays, with an SPF of 15 or higher. Reapply at least every two hours while outdoors. For a dewy glow, use skin-care products with 10 ingredients or less to reduce irritation, use moisturizer and feed your skin from within. Dark chocolate and antioxidant-rich foods such as cantaloupe, citrus fruits, blueberries and leafy greens improve the skin's appearance.
More