Licking your lips initially may seem inconsequential. However, a persistent and irritating habit can develop rather quickly over time. Basically, when someone licks their lips and surrounding area, that area becomes dry. When that individual experiences that dryness as discomfort, they lick again to re-moisten...and so on and so forth. Eventually this sets up a vicious cycle. Licking the lips also may encourage inappropriate rest position of the tongue and jaw. In someone, for example, with already-challenged tongue rest posture, i.e., tongue thrust, this chronic lip licking serves to perpetuate these oral postural issues as well. Over time, significant changes in oral rest postures may need to be addressed with myofunctional therapy to re-establish proper oral muscle patterns and placement through orofacial myofunctional exercises.
Licking your lips can actually dry them out. Saliva contains digestive enzymes -- including amylase and maltase -- that wear the lips' thin skin down, leaving them vulnerable to environmental exposure like dry air.
Continue Learning about Healthy Skin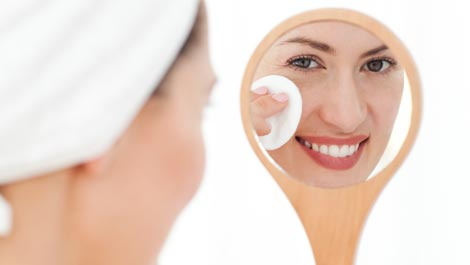 Staying out of the sun and away from tanning beds is the easiest way to get great-looking skin. The suns UVB and UVA rays cause skin damage, which is prematurely aging, and skin cancer. Every day you should wear a broad-spectrum s...
unscreen, which blocks UVB and UVA rays, with an SPF of 15 or higher. Reapply at least every two hours while outdoors. For a dewy glow, use skin-care products with 10 ingredients or less to reduce irritation, use moisturizer and feed your skin from within. Dark chocolate and antioxidant-rich foods such as cantaloupe, citrus fruits, blueberries and leafy greens improve the skin's appearance.
More