The epidermis, or the outermost layer of skin, is constantly changing. Skin cells from the lower layers make their way to the surface and eventually fall off; a process known as natural exfoliation or desquamation. These cells are held together by protein rivets called desmosomes, and at the appropriate time, enzymes in the skin dissolve the desmosomes to allow the cells to separate and shed one-by-one. When skin is too dry, the enzymes that degrade desmosomes cannot function properly, which leads to clumps of cells that shed together, instead of single cells that shed invisibly. These clumps can be seen as flakes or scales.
Continue Learning about Healthy Skin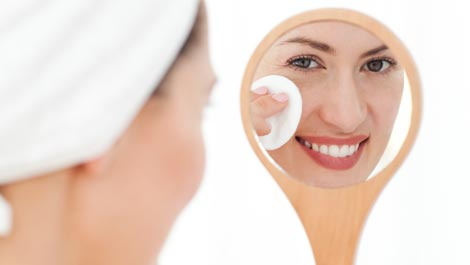 Staying out of the sun and away from tanning beds is the easiest way to get great-looking skin. The suns UVB and UVA rays cause skin damage, which is prematurely aging, and skin cancer. Every day you should wear a broad-spectrum s...
unscreen, which blocks UVB and UVA rays, with an SPF of 15 or higher. Reapply at least every two hours while outdoors. For a dewy glow, use skin-care products with 10 ingredients or less to reduce irritation, use moisturizer and feed your skin from within. Dark chocolate and antioxidant-rich foods such as cantaloupe, citrus fruits, blueberries and leafy greens improve the skin's appearance.
More