Your body is constantly under attack from outside forces, and the skin is its greatest defender. It functions like Gore-tex, a high-tech outer sheath that protects us from temperature extremes, wind, and ultraviolet rays from the sun. It's a two-way barrier that not only retains water in the body but also acts as a water-resistant raincoat against too much water coming in. It's also our best shield against injury (bruises, cuts, and scrapes) and infection.
This incredible packaging contains us and keeps the body in balance by regulating temperature and providing insulation from heat and cold. For example, all the hair follicles are attached to tiny muscles that contract as a response to cold air, elevating hair on the body and trapping air around us, keeping the body warm like fur. When it's hot outside, cooling mechanisms kick into gear as the nervous system triggers the blood vessels and sweat glands to release heat as fast as possible. Overheated blood is pumped away from the heart and out to the skin, where the heat dissipates (which is why your skin becomes flushed). Sweating cools the skin by bringing moisture to the surface, where it evaporates in the air - instant air-conditioning.
As if all this weren't enough, the skin has the added role of synthesizing vitamin D, which is necessary for the absorption of bone building calcium. The nutrient can also be obtained from milk and vitamin D-fortified juice and foods, as well as salmon, sardines, and fish oil. (Vitamin D supplements aren't easily absorbed into the system, so they don't work as effectively.) Luckily, a more palatable primary source of the vitamin is the sun. Vitamin D is known as "the sunshine vitamin" not because the sun has the nutrient in it but because UV rays actually convert a chemical found in the epidermis into vitamin D.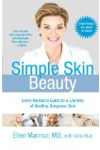 Continue Learning about Healthy Skin