Give your skin inside-out protection from the sun by putting these four items into your shopping cart: pomegranates, tomatoes, dark chocolate and tea.

The antioxidants in this tasty quartet of treats may help thwart skin cancer, according to John La Puma, MD, author of ChefMD's Big Book of Culinary Medicine.

No food can replace the awesome sun-busting power of sunscreen, but some foods may work their way from the inside out to give your skin a little extra protection. The antioxidants in pomegranates, tomatoes, dark chocolate and tea "can migrate to upper layers of your skin, bolstering resistance to ultraviolet damage," La Puma writes.
An experiment tried to answer this question--can eating certain foods actually protect your skin from the sun?

To find out, volunteers were exposed to ultraviolet light to measure how quickly their skin would burn. Then after eating about four tablespoons of tomato paste a day for three months, they were exposed to the same level of ultraviolet rays.

Is there such a thing as a "sunscreen" you can safely eat?
The tomato paste resulted in a 30 percent reduction in sun damage. The reason, Dr. Oz, Vice-Chair and Professor of Surgery at Columbia University, says, is lycopene--an antioxidant found in tomatoes, especially in the reddest ones--which replenishes skin cells.

"What lycopene does is it attaches to key cells in your skin. ... The sun is attacking your body and it's helping your body at the same time. The skin's major function is to let enough sun through so you can convert cholesterol to vitamin D, because you've got to have vitamin D. But at the same time, it needs to protect you against the sun destroying all of your folic acid. So how does it do that? It does that by having its own antioxidant system always there to protect you. And how do you replenish it? Things like lycopene."

In addition to protecting skin from sun's burning rays, lycopene can also prevent wrinkles by keeping your elastic skin tissues from losing their tenseness.
This content originally appeared on
doctoroz.com
Continue Learning about Healthy Skin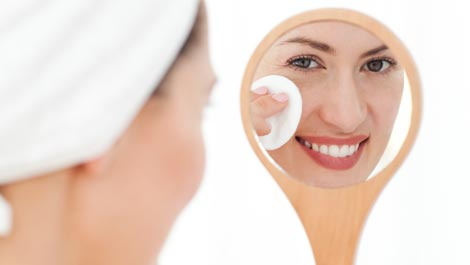 Staying out of the sun and away from tanning beds is the easiest way to get great-looking skin. The suns UVB and UVA rays cause skin damage, which is prematurely aging, and skin cancer. Every day you should wear a broad-spectrum s...
unscreen, which blocks UVB and UVA rays, with an SPF of 15 or higher. Reapply at least every two hours while outdoors. For a dewy glow, use skin-care products with 10 ingredients or less to reduce irritation, use moisturizer and feed your skin from within. Dark chocolate and antioxidant-rich foods such as cantaloupe, citrus fruits, blueberries and leafy greens improve the skin's appearance.
More