In one study, just 6 weeks of a daily dose of cocoa made skin smoother, better hydrated, and less sun sensitive. And 12 weeks did even more. All thanks to the skin-boosting antioxidants in cocoa, called flavonols. But it's got to be dark chocolate, according to RealAge skin expert Dr. Amy Wechsler: "Skip cocoa mixes, which don't have the same flavonol levels, and go for the real thing: dark, unadulterated cacao powder that contains 70% or more cacao."
Continue Learning about Healthy Skin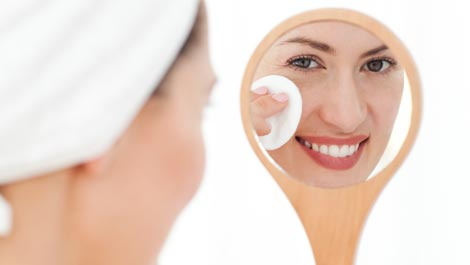 Staying out of the sun and away from tanning beds is the easiest way to get great-looking skin. The suns UVB and UVA rays cause skin damage, which is prematurely aging, and skin cancer. Every day you should wear a broad-spectrum s...
unscreen, which blocks UVB and UVA rays, with an SPF of 15 or higher. Reapply at least every two hours while outdoors. For a dewy glow, use skin-care products with 10 ingredients or less to reduce irritation, use moisturizer and feed your skin from within. Dark chocolate and antioxidant-rich foods such as cantaloupe, citrus fruits, blueberries and leafy greens improve the skin's appearance.
More