Garden Eggs And Tofu With Salsa
Serves: 3

Ingredients
1/2 medium onion, diced
1 medium zucchini, grated
1 carrot, grated
2 cups chopped Swiss chard or organic spinach
1/2 medium tomato, diced
2 cloves garlic, pressed
2 teaspoons herbes de Provence (dried French herbs)
1 cup firm tofu
1/8 teaspoon curry powder, or more to taste
3 large eggs, beaten
1/4 cup prepared salsa, low sodium
1 ounce non-dairy mozzarella cheese substitute, grated
6 sprouted grain tortillas, if desired
Directions
In a large sauté pan, heat 1/8 cup water and water sauté the onion, zucchini, carrot, and Swiss chard for about 2 minutes.
Add the tomato, garlic, and herbs.
Cook, stirring for about 2 minutes, until the vegetables begin to soften.
Squeeze water out of tofu and crumble.
Scatter the tofu over the vegetables and sprinkle with curry powder.
Mix with vegetables and cook over high heat until water is cooked away.
Reduce the heat to low and stir in the eggs, mixing well so the vegetables and tofu bind with the eggs.
Continue stirring, until the eggs are cooked.
Top with salsa and grated cheese substitute.
May be served on sprouted grain tortillas.
CALORIES 261; PROTEIN 24g; CARBOHYDRATES 17g; TOTAL FAT 13.4g; SATURATED FAT 2.8g;
CHOLESTEROL 211mg; SODIUM 291mg; FIBER 4.8g; BETA-CAROTENE 2776mcg; VITAMIN C 26mg;
CALCIUM 670mg; IRON 4.7mg; FOLATE 93mcg; MAGNESIUM 120mg; ZINC 2.6mg; SELENIUM 33.2mcg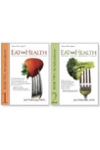 Continue Learning about Recipes for Healthy Cooking