Black Bean and Corn Salsa
Serves: 8

Ingredients
1 1/2 cups cooked black beans or 1 (15 ounce) no salt added or low sodium black beans, drained
1 1/2 cups frozen white corn, thawed
4 medium fresh tomatoes, chopped
1/2 medium green bell pepper, chopped
1 small onion, chopped
3 large garlic cloves, chopped
2 jalapeno peppers, seeded and chopped (may add more if you like a hotter salsa)
1/3 cup cilantro, finely chopped
1 1/2 tablespoons fresh lime juice
1 1/2 tablespoons fresh lemon juice
1 tablespoon Dr. Fuhrman's VegiZest* or other no-salt seasoning mix.
1 teaspoon garlic powder, or to taste
1 teaspoon Bragg Liquid Aminos

Directions
Combine beans and corn in a mixing bowl. Place fresh tomatoes, pepper, onion, garlic and jalapenos in a food processor and pulse until chopped into small pieces. Add to bean and corn mixture along with remaining ingredients and mix thoroughly. Serve with raw vegetables or healthy tortilla chips.

To make healthy tortilla chips, cut sprouted grain tortillas (such as Ezekiel's) into chip-sized triangles, place on baking sheet and bake at 200 degrees for 1 hour or until crispy, but not browned.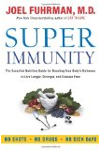 Continue Learning about Recipes for Healthy Cooking