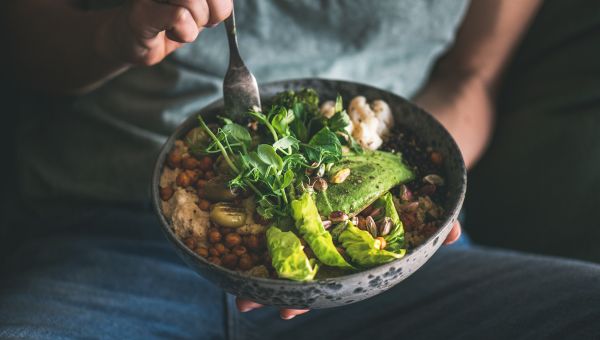 So long, summer salads! Nourish bowls are a simple and delicious way to pack nutrients—and flavor—into a single meal.
1 / 8
Chances are you've seen images of beautiful veggie-packed Buddha bowls while scrolling through your Instagram feed. And unlike some other viral food trends, these colorful meals are actually good for you. They're way more filling than your typical lunchtime salad, too.
The formula is simple: Lay down your starch, like quinoa and lentils, add a serving of protein, like tofu, and load in fresh vegetables. These bowls are a great way to use leftover veggies from the night before; the more variety, the better.
"Buddha bowls are going to be really colorful, vibrant bowls that are just as beautiful to eat as they are delicious," says Christine Patorniti, registered dietitian, certified diabetes educator and owner of Nutrition Center of Colorado in Centennial, Colorado.
She offers tips for building the perfect fall-inspired nourish bowls with seasonal ingredients like sweet potatoes, mushrooms, green beans and even crisp, juicy apples.
Medically reviewed in October 2018. 2 / 8

Fiesta sweet potato bowl

Change up your boring taco Tuesday routine by adding these fiesta bowls to the menu. They're grain-free, served on a bed of seasoned and roasted sweet potatoes and topped with dietitian-approved foods, like black beans and avocado.

To build your meal, dice two cups of sweet potatoes and coat with a few tablespoons of store-bought taco seasoning or a mix of cumin, paprika, chili powder, garlic powder, onion powder, red pepper flakes, salt and pepper. Roast until tender, about 30 to 40 minutes at 400 degrees Fahrenheit, and top with "a whole can of black beans, two ears of corn, a pint of cherry tomatoes and one avocado to make three to four bowls at once," Patorniti recommends.

She also browns up a 12-ounce package of meatless beef-style crumbles with a tablespoon of olive oil and the same Mexican seasoning blend. Divide your veggie mixture into four servings (or three if you're really hungry) and top with ¾ of a cup of vegan crumbles for a meal with loads of flavor, protein and healthy fats. Enjoy one 483-calorie meal now and the others for lunch later in the week. 3 / 8

Roasted rainbow bowl

A colorful diet is often a nutritious one; each hue of fruits and vegetables adds a different nutrient to your plate. This prismatic meal is simple to make, even easier to clean up and totally customizable.

Line a few baking sheets with aluminum foil or parchment paper and arrange your chopped veggies in even layers. On one sheet pan, Patorniti roasts peeled and sliced red and yellow beets; on another, sliced baby portabella mushrooms. The third is reserved for cubed acorn squash, a seasonal gourde with a tough green exterior and tender amber flesh.

Before roasting her veggies in a 350 degree Fahrenheit oven, Patorniti sprinkles them with salt and pepper. A helpful tip: Put your beets and squash in first since they take a little longer to cook—about 20 minutes—and toss the mushrooms in with about 10 minutes left.

Add a half cup of each of the veggies to a bowl with a half cup of long grain wild rice and top with a quarter of an avocado. Drizzle with a mixture of tahini and lemon juice, about a tablespoon of each, and grab your fork. The bowl contains just 366 calories, but is rich in vitamins C, potassium and fiber.

Save yourself some time on weeknight prep by cooking a large batch veggies and rice ahead of time and storing in your fridge or freezer. You can also vary your veggie choices and seasonings each week, so you never get bored of the same lunch. 4 / 8

Asian-inspired tofu bowl

This dish delivers Asian flair, without the fat, calories and sodium of a traditional takeout meal. Start by adding half a cup of your favorite grain to the bottom of your bowl. Brown rice is a standout choice with just 108 calories per half-cup serving.

Next, add 3 ounces of marinated and baked tofu. To get crispy tofu chunks, Patorniti recommends wrapping your block of tofu in a paper towel and applying pressure. Once you've squeezed out most of the moisture, cut into bite-sized pieces, about the size of your thumb. Then toss the tofu in a light coating of your favorite Asian-inspired sauce, or a few tablespoons of low-sodium soy sauce, minced garlic and fresh ginger. Bake your strips at 350 degrees Fahrenheit for 20 minutes or until crisp.

Add a serving of your protein and load in about 2 cups of raw, roasted or grilled veggies like a combination of red bell pepper strips, shredded carrots, broccoli and scallions. Avocado is another flavorful addition and it adds heart-healthy fats to the mix. They're high in calories, though, so add just a quarter of the fruit. Drizzle Patorniti's go-to blend over your bowl: one tablespoon of soy sauce and a teaspoon each toasted sesame oil and rice wine vinegar. This 390-calorie meal will satisfy your takeout craving guiltlessly. 5 / 8

Mediterranean quinoa bowl

Foods and flavors can take you places, and this dish is sure to transport you to a Mediterranean island. The best part is that it requires little prep and almost no cooking.

Lay down half a cup of quinoa, a whole grain with a respectable amount of fiber and protein. Many supermarkets sell fully-cooked varieties that can be heated in your microwave. If you'd rather prepare you own, Patorniti recommends cooking a big batch early in the week.

Next, load in half a cup each of halved cherry tomatoes, cucumber slices and chickpeas, drained and rinsed if you're using the canned kind. Chickpeas are a great source of plant-based protein, about 7 grams per half cup. Toss on a few slices of red onion and a small handful of pitted Kalamata olives, about five olives.

To top it off: "Make a little mixture of lemon zest, lemon juice, parsley and olive oil, and drizzle that over your Buddha bowl," Patorniti recommends. Modify the dressing to your taste buds, but start with a teaspoon of lemon zest and a tablespoon of the other ingredients.

Dig in for 450 effortless calories. 6 / 8

Green goddess bowl

Don't get enough green veggies in your diet? Adding this vibrant plate to your day is a good place to start.

First, choose your grain, like quinoa, barley or farro. Then gather up your favorite greens, like spinach, kale, broccoli, bell peppers, Brussels sprouts or green beans. Most grains and veggies add protein to your plate, but if you're looking for more, Patorniti recommends tossing in soybeans, also known as edamame. They match the color scheme, too!

Half a cup of organic, shelled edamame contains about 8.5 grams of protein and 4 grams of fiber. Some supermarkets also carry fully cooked and frozen varieties, which make prep a breeze. Pick four greens and measure a half cup of each into your bowl, along with the same serving of edamame and a half cup of grains.

"Veggies really add a lot of bulk and volume to your bowl," Patorniti says. They're going to make your meal filling and hydrating, since vegetables are made of 70 percent or more water, she adds.

Some of your ingredients, like spinach and bell peppers, can be added to your bowl raw. Prepare your green beans and Brussels sprouts by chopping them in half and roasting with a thin coating of cooking spray (virtually calorie free) at 400 degrees Fahrenheit for about 20 minutes.

Top a serving of barley, edamame and vegetable with heavenly dressing, a combination of a tablespoon each plain nonfat Greek yogurt and lemon juice and a teaspoon of fresh dill and minced garlic. In all, the meal contains just 264 vitamin-rich calories. 7 / 8

Stuffed sweet potato bowl

Sweet spuds are the star in this grain-free meal. This nourishing bowl has the same flavor as the famous Thanksgiving casserole, without brown sugar and marshmallows—so it's much more nutritious.

Pierce one large sweet potato all over with a fork and bake at 400 degrees Fahrenheit for around 45 minutes. Scoop the sweet orange insides into a bowl. Sauté a cup of chopped kale and a cup of broccoli rabe with a teaspoon of olive oil and a small pinch of salt. Once wilted, add the mixture to the top of your sweet mash. Finish your dish with a half cup of chickpeas and a tablespoon of tahini for 470 total calories. Tahini is a nutty spread made from sesame seeds, and although it delivers some healthy fats, it's also pretty high in calories. One tablespoon has about 90 calories, so don't overdo it.

Patorniti has some recommendations for cooking flavorful meals without going overboard on toppings. "Season your vegetables very well, so you don't need to waste your dressing on the veggies," she notes. You can marinade and season your protein, too. She also says the acidity in lemon juice brings out the natural flavors of your veggies and adding a little can heighten the flavor of your whole meal. 8 / 8

Autumn harvest bowl

By now you should be a Buddha bowl expert. Pick your hearty grain—farro and quinoa are two options that go great with this bowl's toppings—and add a half cup to your bowl. Punch up the protein by mixing in a half cup of lentils.

Next, cube one cup of butternut squash, sprinkle with salt and pepper and roast at 400 degrees Fahrenheit until tender, between 30 and 40 minutes. Add to your plate a cup of sautéed green kale and half of a sliced apple. Gala apples are a sweet choice.

A drizzle of apple cider vinegar and olive oil almost complete this meal. Before you grab your fork, add a tablespoon of nuts or seeds. Not sure which to choose? "Mix it up," Patorniti recommends. "Different nuts and seeds give you different vitamins and minerals, so I usually suggest using two or three different nuts and seeds a week."

A tablespoon of chopped walnuts completes this meal with about 455 filling and festive calories.
Continue Learning about Recipes for Healthy Cooking