6 Freezer-Friendly Breakfast Recipes Under 300 Calories
These make-ahead meals make busy mornings a breeze.
1 / 7
By Taylor Lupo
Breakfast is arguably the most important meal of the day. A well-balanced morning meal helps regulate blood sugar levels, boosts productivity throughout the day and may even help you maintain a healthy weight.
"Ideally, a breakfast would have all five food groups," says Christine Patorniti, RD, a registered dietitian with Sky Ridge Medical Center in Lone Tree, Colorado. "It should have grains, fruit, vegetables, dairy and protein, this is no small feat to achieve at breakfast time. Planning and prepping will help even the most novice chef make a balanced breakfast."
Patorniti shares the secrets to preparing simple and delicious freezer-friendly breakfasts. The benefit? "Cooking these foods ahead of time often prevents people from going into their common pitfalls," Patorniti says.
Load your freezer with make-ahead meals that won't break the calorie bank and never skip breakfast again.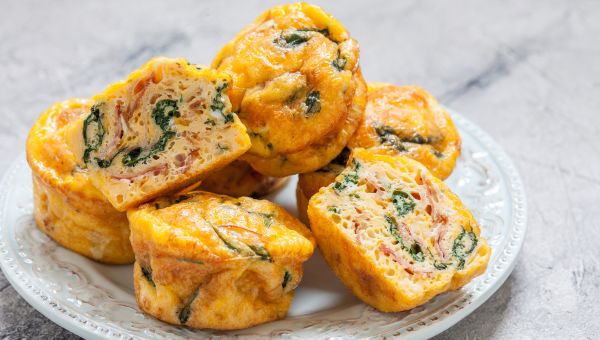 2 / 7

Scrambled Egg Muffins

Protein-packed omelets, loaded with nutrient-rich veggies, are a great way to start the morning—but who has time to break out the saute pan? Now you can enjoy the taste and nutrition of this egg dish—in convenient baked cups.

To make a batch of six muffins:
Coat a muffin tin with nonstick cooking spray.
Beat six eggs in a bowl.
Fold in 1 cup of your favorite chopped veggies, like peppers, onions and spinach.
Pour the mixture into six muffin cups and bake at 350 degrees Fahrenheit for 10 to 12 minutes.
Once the muffins are baked and cooled completely, wrap each one in wax paper and place in a zip top bag. When you're ready to eat, place your muffins in the microwave, cover with a damp paper towel and nuke for 30 seconds, or until warm. One serving (two baked cups) contains about 155 calories. 3 / 7

Baked Oatmeal Cups

These baked oatmeal cups are a sweet and simple way to combine whole grains with your favorite fruit.

To make six muffins:
Combine 2 cups of old fashioned oats with a teaspoon each of cinnamon and baking powder.
Stir in 1 cup of unsweetened almond milk (or other milk of choice) and 1 teaspoon of vanilla extract.
If you prefer extra sweetness, add a drizzle of agave, honey or maple syrup to the mix.
Add half a cup of your favorite fruit, like fresh berries or diced apples.
Pour the mixture into six lined muffin cups and bake at 375 degrees Fahrenheit for about 20 minutes.
Once cooled, wrap each muffin in plastic wrap and store in the freezer. Before serving, let them thaw, then heat in the microwave for 30 seconds to a minute. Each muffin, without added sweetener, contains 120 calories.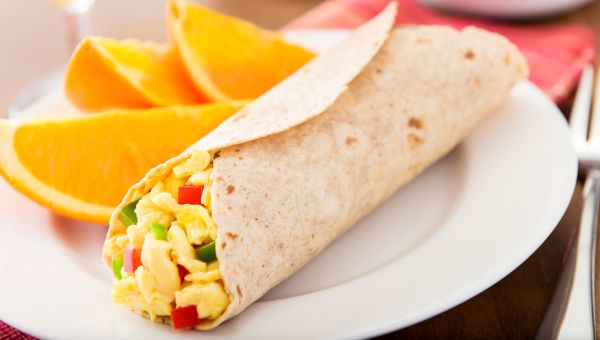 4 / 7

Veggie and Egg Breakfast Burritos

Who said burritos are only for lunch and dinner? This quick breakfast will get your morning started on the right foot—even if you woke up on the wrong side of the bed.

What's more? You can customize the fillings based on the nutrients your body needs. "If you know you're low in fiber, focus on fiber when you're prepping your meals," Patorniti says. "For example, peas are a good source of fiber; grab a bag of frozen peas during your next shopping trip and try adding a 1/2 cup into you next egg dish"

To prepare each burrito:
Scramble one egg and spread on an 8-inch whole wheat tortilla.
Spoon on half a cup of chopped veggies, like tomatoes and bell peppers.
Sprinkle with a bit of Mexican seasoning, like cumin, paprika and cayenne pepper before rolling up your burrito.
Cover each with a layer of plastic wrap or foil and place in a freezer bag. When you're ready to enjoy, replace the plastic or foil wrap with a damp paper towel and heat in the microwave for about two minutes. Each burrito is 220 calories. 5 / 7

Loaded Morning Sweet Potatoes

Baked potatoes are typically a dinnertime side, but sweet potatoes are perfect for breakfast, too! This sweet meal combines healthy protein, tons of fiber and loads of vitamin A—good for vision, cell growth and bone health.

To prep your potatoes:
Select as many medium sweet potatoes as you'd like to bake. Wash using a vegetable scrubber. Use a fork to pierce several holes in each.
Bake at 400 degrees Fahrenheit until potatoes are tender, about 45 minutes.
Remove the potatoes from the oven and allow to cool before wrapping each in tin foil. Store in a freezer bag.
When ready to eat, thaw your spud before popping it in the microwave oven and heating until warm.
Slice the potato in half and top with half a cup of plain nonfat Greek yogurt, a tablespoon of almond butter, a teaspoon of chopped walnuts and a dash of cinnamon.
Keep in mind, it's best to top your potatoes when you're ready to eat. "Dairy products tend not to freeze well, and oftentimes will separate," Patorniti explains. Since the potato needs to be thawed before eaten, place in the fridge the night before.
This morning meal tastes almost too good to be healthy, but each potato contains just 280 calories. 6 / 7

Make-Ahead Breakfast Sandwiches

Drive-thru breakfast sandwiches may be convenient to pick up on your way to work, but most of them are packed with fat and sodium, and light on veggies.

Making your own grab-and-go meals is a great way to ensure that you're giving your body a healthy start to the day.

To assemble six sandwiches:
Saute 1 cup of veggies, like mushrooms and spinach, in 1 teaspoon of olive oil, until tender.
Beat six eggs in a bowl and add the veggies.
Cook the mixture over medium heat. Pull the eggs across the pan as they begin to set, forming large curds.
Toast six whole wheat English muffins before spooning equal amounts of the scrambled eggs onto each.
Top each with a slice of low-fat cheddar cheese and wrap in foil before freezing.
This breakfast combines healthy whole grains, lean protein and veggies. When you're ready to eat, take your sandwich out of the fridge, wrap in a damp paper towel and heat in the microwave for a minute or two. Enjoy for just 290 calories.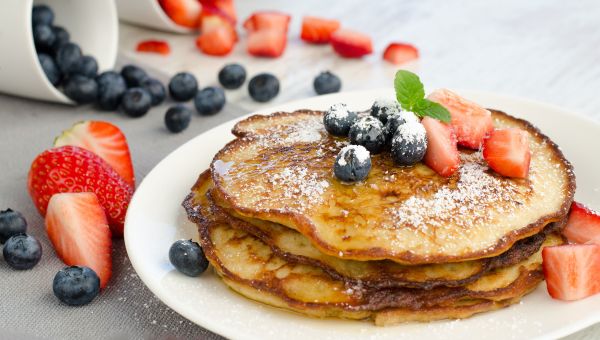 7 / 7

Protein-Packed Pancakes

Who doesn't love flapjacks? But one serving of store-bought frozen pancakes contains 280 calories, is loaded with fat and sugar—and that's before you've even doused them in syrup. Making your own protein pancakes at home is simple, and so much healthier.

To whip up one serving of pancakes:
In a blender, combine three egg whites, one heaping scoop of your favorite flavor of whey protein powder and a small, overripe banana until smooth.
Pour equal amounts onto a hot nonstick pan and cook until done, flipping them once. This recipe makes about three.
Once the pancakes are cool, wrap each in plastic wrap, store in a zip top bag and freeze.
Before your next morning workout or on your way to work, heat three pancakes in your microwave for 30 seconds. Top with a sprinkle of cinnamon and a cup of fresh fruit, like strawberries. This meal totals just 287 calories, but the calories may vary based on your chosen fruit and protein powder.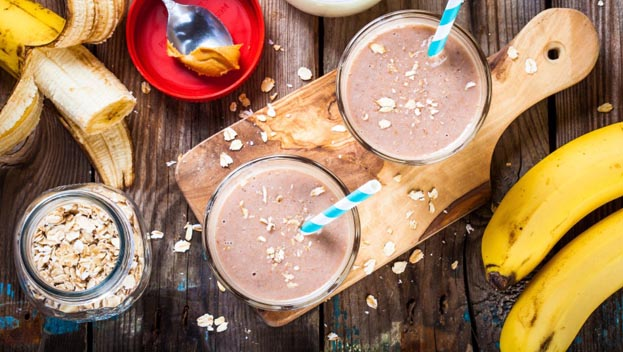 Discover healthy, delicious recipes for breakfast, lunch, dinner and desserts.