Vegetable Bean Burrito
Serves: 6

Ingredients
1 head broccoli florets, chopped
1/2 head cauliflower florets, chopped
2 carrots, chopped
2 medium red bell peppers, seeded and chopped
1 medium zucchini, chopped
1 medium onion, chopped
4 cloves garlic, chopped
1 1/2 tablespoons Dr. Fuhrman's VegiZest or other no salt seasoning
1 teaspoon dried basil
1 teaspoon dried oregano
1 teaspoon dried parsley
1/2 cup raw cashews
1/2 cup raw almonds
1/2 cup unsweetened soy, hemp or almond milk
1 1/2 cups cooked pinto beans or 1 (15 ounce) can pinto beans, no salt added or low sodium, drained
6 whole grain tortillas or large romaine lettuce leaves
no or low sodium salsa
Directions
Place 2 tablespoons water, the broccoli, cauliflower, carrot, bell pepper, zucchini, onion, garlic, VegiZest, basil, oregano, and parsley in a large covered pot.
Sauté for 15 minutes or until tender, adding more water if needed.
In the meantime, place nuts and milk in a food processor or high powered blender and blend until smooth.
Add the cashew mixture and beans to the vegetables and mix thoroughly.
Spread the mixture on the tortillas and roll up to form burritos.
Serve with salsa.
CALORIES 524; PROTEIN 20g; CARBOHYDRATES 78g; TOTAL FAT 17.2g; SATURATED FAT 3.6g; SODIUM 447mg; FIBER 14.7g; BETA-CAROTENE 3666mcg; VITAMIN C 167mg; CALCIUM 154mg; IRON 6.2mg; FOLATE 385mcg; MAGNESIUM 151mg; ZINC 3.2mg; SELENIUM 25.8mcg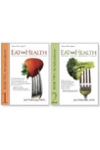 Continue Learning about Recipes for Healthy Cooking