To use a sonic toothbrush, you should follow these instructions:
Wet the bristles and use a small bit of toothpaste.
Place the toothbrush bristles against the teeth at a slight angle toward the gumline. Power up.
Apply light pressure to let the brush do the brushing for you (as with a sensitive co-worker, don't push too hard).
Gently brush the head slowly across the teeth in small back and forth motions so the longer bristles reach between your teeth.
Do the outside top teeth, inside top teeth, outside bottom teeth, and inside bottom teeth each for 30 seconds. Then do the chewing surfaces and anywhere else that may have stains. Feel free to brush your tongue, too.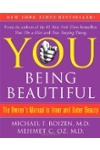 Use a sonic toothbrush like you would any other toothbrush. A sonic toothbrush is a kind of electric toothbrush. It rotates much faster than a regular electric toothbrush, creating vibrations that are designed to make it even more effective at removing food debris and plaque. You can't just wave it in front of your teeth, though. You need to brush the same way, and as frequently, as you would with a manual or standard electric toothbrush.
Continue Learning about Healthy Oral Hygiene