Flossing is good for more than your gums! In this video, Michael Roizen, MD, chief wellness officer for the Cleveland Clinic explains how this simple act can affect your overall health.

Flossing may not turn back the clock in terms of years, but it can extend the life of your teeth.
Just 60 years ago, it was an assumption that as we age we would lose our natural
teeth
. But, that's not the case for today's older adults who are keeping their natural teeth longer than ever before. A healthy mouth and teeth help you look good, eat delicious and nutritious foods, and speak clearly and confidently. Being mouth healthy is essential for good quality of life.
Cleaning between your teeth -- with string floss, a water flosser or other devices helps prevent gum disease, a major cause of tooth loss. When you lose teeth, you lose bone and that can change your facial structure often making you look older. The healthier your mouth, the brighter your smile, and good smile is ageless.
There is no real way to reverse the aging process, but some lifestyle habits, like flossing, may help prevent some of the diseases that can cause premature death, including heart disease and cancer. For example, studies suggest that oral bacteria can lead to inflammation that spreads beyond your mouth and into your blood vessels, where it can trigger heart disease. People with gum disease are at higher risk of some forms of cancer. By flossing daily, you may be lowering your risk for heart disease, stroke, atherosclerosis, and possibly cancer, which means that you can spend your golden years taking vacations instead of taking pills.
Brushing and flossing every day (combined with seeing a dental professional every six months or so) can have a RealAge effect of making you up to 6.4 years younger. Because of its ability to decrease inflammation in your gums and subsequently in your arteries, flossing will help you keep your heart pumping and your sex life thriving-not to mention your teeth intact. Pressed for time? Then follow this rule: Only floss the teeth you want to keep.

Another way to thwart inflamed gums: Eat fibrous foods like apples, or chew sugarless gum, which helps build up saliva. That helps you avoid dry mouth, which is a common cause of gingivitis.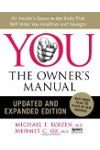 Continue Learning about Healthy Oral Hygiene