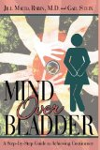 The bladder can hold anywhere between twelve and twenty ounces of fluid, depending on the age of the person. Bladder capacity tends to decrease with age and leads to an increased frequency of urination. It is not uncommon to feel the urge to urinate when the bladder holds just eight ounces of urine, and the bladder is generally emptied when it contains anywhere up to sixteen fluid ounces. Any more than that and you'll be in substantial pain.
Normal frequency of urination is considered to be up to seven or eight times a day. Some people void every four hours, while others -- the lucky few as far as I'm concerned -- can sometimes last six or even eight hours. Depending upon how much you've eaten or drunk, you may have to go even more frequently, but not more than every two hours if you want to be considered continent.
Don't try to forcibly hold your urine too long. If you stretch the bladder too much, your muscles may weaken, and you may start to "dribble" as you get older. Beware: this condition is harder to fix than incontinence. Once a muscle is stretched, that's it; there's no way to regain your tone!