When I say, "eat naked," I'm not talking about your clothes. I'm talking about your food. I'm talking about eating without the extras that contribute to poor health, excess weight, low energy levels, and a host of other challenges that face so many of us. Eating naked is delicious, fun, simple, and, best of all, will make you look and feel great naked. It means eating:
Food that's whole, unrefined, and often comes unpackaged. An example is eating an apple rather than a processed apple snack.
Food that's grown naturally. This means it's organic and has been grown or raised (in the case of animal products) without pesticides, herbicides, antibiotics, or other synthetic chemicals at any point during growing, storage, or transport. In the case of our apple, it would be one that was grown organically.
Food that's fresh, in season, and ideally hasn't been preserved. A fresh apple eaten in the fall, when it's in season, is a perfect example. If the food has been preserved for later consumption, this has been done without artificial preservatives and in a way that does the least amount of damage to the nutritional integrity of the food. Dried apple slices without any extra preservatives are a great choice.
Food that's grown locally. Locally grown foods come to you without all the extra transportation miles and the associated environmental and nutritional costs. The shorter the distance the food has traveled to you, the better. An apple grown within a few hundred miles of you will be fresher, tastier, and more nutritious than an apple grown on the other side of the world, shipped great distances, and stored for months.
Food that's prepared minimally. We're shooting for food enjoyed without lots of extra sauces, additives, or unhealthy fats. So often food is overprepared. Naked food isn't overcooked, which means its nutrients haven't been cooked out of it. Naked food doesn't have lots of additives and extra, unnecessary ingredients (many of which are damaging to our health) for enhanced, artificial flavoring. Naked food is prepared simply, quickly, and without all of those extras. It is delicious in its own right.
Eating naked is eating in a way that takes us back to the basics. It isn't complicated, but for many people it's a different way of eating than they've grown accustomed to. Eating naked is a paradigm shift from the commercially prepared to the homemade, a shift that yields positive results for your body, mind, and soul.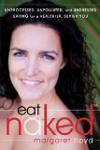 Continue Learning about Healthy Foods & Cooking