Most pears available are purchased unripe and will require a few days of maturing. As the pear ripens, the skin color changes from green to the color characteristic of the variety: Bosc pears turn brown, Anjou and Bartlett pears turn yellow, and Comice pears have a green mottled skin. Fresh pears are best when they yield to pressure as an avocado does. Unripe pears will ripen if stored at room temperature. If you want to hasten the ripening process, place them in a paper bag, turning them occasionally, and keep them at room temperature. Once ripe, pears should be stored in the refrigerator, where they will remain fresh for a few days.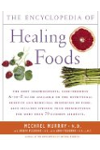 More About this Book
Encyclopedia of Healing Foods
From the bestselling authors of The Encyclopedia of Natural Medicine, the most comprehensive and practical guide available to the nutritional benefits and medicinal properties of virtually everything...
Pears are at their peak in the fall and winter months. Keep this in mind when you are planning menus and snacks. Fruit tends to taste better when it's in season.

There are a number of pear varieties from Anjou, Bosc and Bartlett are some common ones. Keep this in mind when selecting pears because color may not be the best indicator of ripeness depending on the variety. Also, the flavors vary so be sure to choose the right variety for the job. Some are better for snacking while others are better for cooking or raw salads.

However, with all varieties, select pears with smooth skin that free of any cuts, bruises or soft spots. If you will store them for a few days before eating them, select firmer pears and allow them to ripen in a paper bag.
Continue Learning about Healthy Foods & Cooking