You can definitely get creative with smoothies for breakfast! Whey protein isolate is 99% lactose free, however you are welcome to use a rice protein or mixed vegan protein powder instead.
Here are some tips for a healthy breakfast:
Try for 3 out of 5. Aim for a breakfast that includes 3 of the 5 main food groups. Try eggs + whole grain toast + milk. Or how about peanut butter + apple + cereal? Orange juice + lunchmeat + cheese?
Think whole grain. Choose whole grain bread for your toast in the morning. A bowl of warm oatmeal is another good whole grain option.
Go low. Switch to 1% or skim milk. Buy low-fat, low-sugar yogurt (light yogurt) and cheese. If your body can't handle dairy, try fortified soy milk.
Select sensible cereal. If you like cold cereals, stick to brands that have little or no added sugar, have at least 3 grams of fiber per serving, and have a whole grain first on the list of ingredients. Sensible cereals include Cheerios, Grape Nuts, All Bran, Wheat Chex, Kashi GoLean and Shredded Wheat.
Top it off. Top your cereal with berries, bananas, peaches, or other fruits.
Mix it up. Stir some fruit and granola into light yogurt.
Pack it with you. If you're in a hurry to get to school or work, take breakfast with you. Fresh fruit, light yogurt, a whole grain bagel, a hard-boiled egg, a piece of leftover pizza -- these all fit in a backpack, purse, or cargo pant pocket.
You don't have to wake up in time to cook a huge breakfast. It only takes 5 - 10 minutes to eat a bowl of cereal with low-fat milk and fruit. Try yogurt mixed with your cereal. If you don't like traditional breakfast food, eat a sandwich. Eat frozen waffles or pancakes with fruit or light syrup. This is a great time to be creative with what's in the refrigerator. Mix leftover vegetables from last night's dinner with scrambled eggs. What matters is that you are eating something and that it is relatively healthy: preferably with protein, fruit, and fiber.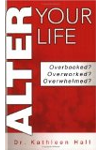 I consider breakfast to be one of the most important meals of the day. Although recent research questions this idea, I find that each and every person I work with feels better after a wholesome breakfast. Instead of a bowl of boxed cereal, aim for oatmeal made with rolled oats—it's the better whole grain option. Instead of a fruit smoothie (or cold pressed juice), how about a fruit and vegetable smoothie in the morning? My favorite is one with avocado, kale, cucumber, fresh herbs, pineapple, apple, lemon, almonds and little rice milk. Even an egg with some avocado on a slice of toast or wrapped in a tortilla is a great choice. Nutritious meets delicious in every option.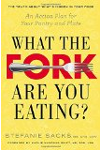 More About this Book
What the Fork Are You Eating?: An Action Plan for Your Pantry and Plate
It's labeled "natural," "grass-fed," or "free-roaming;" yet it might be anything but. It's time to find out what you're actually eating... When your groceries are labeled "low-fat," "sugar-free," and even "natural" and "antibiotic-free," it's easy to assume that you're making healthy choices. Yet even some of those seemingly wholesome offerings contain chemical preservatives, pesticides, and artificial flavors and coloring that negatively affect your health. In What the Fork Are You Eating?, a practical guide written by certified chef and nutritionist Stefanie Sacks, MS, CNS, CDN, we learn exactly what the most offensive ingredients in our food are and how we can remove (or at least minimize) them in our diets. Sacks gives us an aisle-by-aisle rundown of how to shop for healthier items and create simple, nutritious, and delicious meals, including fifty original recipes.
Breakfast is one of the best times to eat whole grains, fruits and milk. And a nutrient-packed start to your day can give you energy to perform better, both mentally and physically.
Following are some sample combinations that are packed with fiber, calcium and other vital nutrients your body and brain need to thrive. These combinations are great in the morning, and can be eaten at lunch or dinner, too:
Fresh pineapple chunks mixed with low-fat cottage cheese and a slice of whole-wheat toast with apple butter
A whole-wheat English muffin topped with soft margarine and a hard-boiled egg
Whole-grain or bran cereal with low-fat or fat-free milk and shaved almonds, served with a piece of fresh fruit
Oatmeal topped with a sprinkle of brown sugar and walnut halves
An egg-white omelet loaded with peppers and low-fat cheddar cheese in a toasted whole-wheat pita pocket and served with low-fat milk
Multigrain pancakes or waffles topped with banana slices
Nonfat yogurt topped with low-fat granola and dried apricots
The benefits of breakfast are almost too numerous to list. Breakfast wakes up your metabolism after sleep and starts you burning calories. It reduces stress hormones and improves your mood.
A healthy breakfast is not made of processed foods and they are not all from one food-type (carbohydrates, or proteins). A healthy breakfast should have the same qualities that make up a good dinner: fresh ingredients and a blend of protein, fat and carbohydrate. In fact, in many countries a typical breakfast is composed out of the leftovers of what was used to make traditional dinners!
Here are my four principles regarding breakfast:
Any breakfast is better than no breakfast. Eat something, even if it's little.
Eat what you like. This is a corollary to #1. If you don't like it you won't eat it, no matter how much you think you should.
Be guided by moderation. A bagel is not a great breakfast because it is all refined carbohydrates, but it isn't going to kill you if you eat it once a month. Try to create balance across a week, rather than be perfect every day.
Diversify your food types. What makes a good dinner makes a good breakfast -- that is, a mixture of protein, carbohydrates, and fat. Just eggs? Not great. Eggs with
Embrace breakfast; take the time to eat it. And there's much more about eating healthy by eating what you love in my new book, Eating Free: The Carb Friendly Way to Lose Inches, Embrace Your Hunger, and Keep Weight Off for Good!
Here's a shopping list of must-have breakfast items to stock in your kitchen. You can find these items anywhere, and three favorites are usually enough to satisfy dieters:
oatmeal
high-fiber cold cereal
nonfat or low-fat milk
nonfat or low-fat yogurt
nonfat or low-fat cottage cheese
eggs/egg whites
natural peanut butter or other nut butters
whole-wheat English muffin
fruit
crushed walnuts or almonds More About this Book
The Small Change Diet: 10 Steps to a Thinner, Healthier You
THE ONLY "DIET" PLAN YOU WILL EVER NEED! No deprivation, no struggles. Just ten small changes that will transform your life. Keri Gans, spokesperson for the American Dietetic Association, shares her simple plan for weight-loss success that lasts a lifetime. The Small Change Diet isn't about creating unrealistic, unsustainable rules—like counting calories, restricting choices, or eliminating entire food groups. It's about turning smart habits into second nature. When it comes to achieving healthy, continued weight loss, the smallest adjustments often make the biggest impact. The key is mastering one new habit before expecting yourself to tackle another. Keri breaks each of the plan's ten easy steps into even smaller, more manageable solutions. The best part is that you decide what to focus on and when you're ready to move on. Take your time! Once you've made all ten changes, you'll be healthier and thinner—for good!
To make a healthy breakfast, choose whole grains like oatmeal or 100% whole grain bread; fresh, dried, frozen or canned fruit (packed in its own juice); low fat or fat free dairy products such as yogurt or milk; and lean protein sources. Some suggestions for healthy breakfast meals include: a whole grain tortilla spread with a nutbutter and a banana and sliced into bite sized pieces; a toasted whole wheat waffle topped with cottage cheese, fruit and nuts; or a trail mix consisting of whole grain cereal, dried fruit and nuts.
Breakfast is a great way to get a jumpstart on a healthy day. After the night's fast, your body is ready for some energy to stoke the fire. In addition, breakfast can be the set up for your hunger and satiety throughout the day. Choosing a nourishing breakfast doesn't have to be time consuming. Pairing some sort of whole grain, like oatmeal or even a whole grain waffle, with a source of good fat and protein, like peanut butter, can help provide energy that sticks with you. Add fruit, like chopped apples, and you have an even more nutrient rich and filling way to start the day. Finally, be sure to drink plenty of water in the morning, a cup or two even before coffee.
A healthy breakfast should be packed with protein and fiber to keep you full until lunchtime and give you sustained energy all morning long. Studies show that consuming fiber in the morning can actually make you less hungry in the afternoon, a notorious candy-sucking, diet-busting time of day. Great breakfast combinations include steel-cut oatmeal with nuts, whole grain cereal with skim milk and berries, fruit with low-fat Greek yogurt, or a scrambled egg with veggies. My favorite breakfast is my Magical Breakfast Blaster Smoothie, which is packed with fruit, protein, and fiber. You can find the recipe on my website or in my book "YOU: On a Diet." When your schedule's busy and you're running late for work or getting the kids to school a healthy, hearty breakfast is often the first to go, but this is one meal you don't want to skimp on. So plan breakfasts the night before, so they're easy to grab on the go in the morning.
A healhty breakfast should have a variety of foods that incorporates at least three different food groups, here are a few examples from four food groups. Choose one food from three of the four. If you are active you may need to choose one food from each of the four groups. The portion of each of the foods should be based on your weight, gender, activity level and/or goals. A dietitian can help you determine how much of each to eat for breakfast.
Dairy/Protein: low-fat or fat-free yogurt, milk, cottage cheese, cheese, egg or egg whites, or even a lean protein like sliced turkey or chicken breast.
Carbs: Whole grain toast, cereal, granola, or oats.
Fats: natural nut butters, raw nuts or seeds, avocado, olive oil
Fruit: whole fruit
Unfortunately, many staples of the classic American breakfast, such as bacon and sausage, are full of four-legged or saturated fats, and should be avoided. What about another classic staple—the egg? Luckily, only the yolk of the egg is high in fat and cholesterol, so egg white and vegetable omelets with salsa—no cheese—are a delicious low-cholesterol, low-fat breakfast choice. (The average omelet made with three egg whites in a little canola oil has less than 2 grams of healthy fat and only 75 to 125 calories.) Or, if you can't bear to go completely yolk-free, one yolk included with three whites makes a scramble or omelet look and taste almost like a regular one. If you crave pancakes or waffles for breakfast, cook them in a nonstick pan or in one coated with low-fat vegetable spray. Top with chopped fruit and a sprinkle of powdered sugar instead of mounds of butter and syrup.
Another staple of the American breakfast—the donut—is an absolutely empty breakfast, with lots of calories and artery-aging trans fat but no nutrition. Instead of eating the same thing every morning, use breakfast time to stimulate your imagination: Try unconventional breakfast foods, such as chopped vegetables with a handful of low-fat whole grain crackers, or a corn tortilla loaded with beans, lettuce, and tomato. If you own a juicer, you can make carrot or tomato juice mixed with celery, spinach, and other vegetables. It's a time-saving, nutrient-rich, and fat-free way to begin the day.
A healthy breakfast that will fuel your morning should contain a combination of nutrient-rich carbohydrates such as whole grains, fruits and veggies, some lean dairy and a smidgen of fat.
Additionally, a hard cooked egg, a serving of nuts, a cup of yogurt, or some reduced fat cheese are a few ways to add protein to any breakfast which has been shown to reduce hunger, increase satiety, as well as reduce activity in the regions of the brain that control food motivation and cravings.
Continue Learning about Healthy Eating Guidelines