In terms of weight gain, a calorie is a calorie is a calorie. Calories not used immediately by your body for energy are either eliminated as waste or stored as fat. But that doesn't mean that all calories are treated by your body equally.

For example, protein and fiber with high water content have a great effect on satiety, and simple carbohydrates have the least effect on satiety.

Fat has a similar effect on satiety as protein and fiber, which is why low-fat diets leave people hungry all the time.
According to women's Health Magazine these are the top ten foods guaranteed to keep you satisfied:
White potatoes
Eggs
Hot oatmeal
Beans
Fish
Soup
Apples
Beef
Salad
Popcorn
A great way to approach mindful choices when figuring out what to eat, following are a few tips that will help you feel fuller longer:
Include protein at mealtime: Studies show that out of the three macronutrients (carbs, protein and fat), protein is the most satiating. So add turkey or salmon to your salad, try an egg with your cereal at breakfast and include some lean meat (2-3 oz will do it!) at dinner.
Focus on fiber: Foods that contain fiber also help to fill you up. There are two types of fiber: soluble and insoluble. Foods rich in soluble fiber include oats and legumes (beans), are viscous and take longer to digest. Insoluble fibers are found in whole grains, fruits and vegetables and act like a broom in your digestive system. Together both types of fiber found naturally in food, help increase feelings of fullness. Beans (legumes) lead the pack in fiber, so experiment with them at mealtime. Try a minestrone or lentil soup, a turkey chili, add some garbanzo beans to your salad, or simply make your favorite beans as a tasty side dish.
Fill up on fruits and vegetables: In addition to fiber, fruits and vegetables also contain water which adds volume to your meals without extra calories. For example, instead of two cups of pasta, try one cup with one cup of spinach or broccoli (and alean protein like shrimp or chicken!) -- you will add volume to your meal without adding many calories. Complement all of your meals with fruits and/or vegetables. Add strawberries or blueberries to your morning cereal or with yogurt, try an apple as your side istead of pretzels at lunch and include a side salad or load up vegetables on your sandwich to make it extra filling.
Swap out refined grains for "whole" grains. Do you usually have a sugary cereal for breakfast? Try a whole grain one instead or try oatmeal, a whole grain waffle or whole grain toast. Do you have a sandwich for lunch? Eat whole wheat bread with at least 3 grams of fiber in each slice. Try brown rice instead of white rice. There are so many higher-fiber, whole-grain foods to choose from. Try some you may not have yet tasted like barley or quinoa.
By including protein at each meal along with higher fiber grains, vegetables and fruits you may just find you feel fuller longer!
Looking for the best foods to fill you up without filling you out? Find out what they are by watching this video featuring Hungry Girl author Lisa Lillien.
To promote a high level of satiety, you must incorporate a variety of foods in your diet each day that are lower in calories but high in volume, high in viscosity, and low in their glycemic impact. Particularly, if you eat these kinds of foods at the beginning of most meals, your initial hunger will begin to diminish and when you turn to the parts of your meal that are higher in calories, you will be able to eat slower and feel satisfied with a smaller portion size. For example, if you start a meal by eating a very large salad with a minimal amount of low-calorie dressing, or a large bowl of low-calorie, high-fiber soup, you will start to feel full before you turn to the higher calorie foods of your meal like steak and potato, and you will be able to savor smaller portions without being tempted to overeat.

Foods like meat, bread, and pasta can all be an important part of a healthy diet, but they are low in volume and high in calories and need to be eaten in moderation to avoid weight gain. By taming your appetite with foods that are higher in volume and viscosity early in your meal, you give your stomach a chance to communicate to the brain that you are starting to feel satisfied before you turn to the higher calorie foods in your meal. Thus, when you get to those foods, you can practice eating slowly and savoring every bite, while being careful to eat smaller portions and avoid going back for seconds. With this strategy, even very big eaters can push away from the dinner table feeling full without overeating in terms of calories. There is nothing wrong with having a full stomach as long as the calories in your stomach are low enough to promote weight loss.

Learning to incorporate high-volume and -viscosity foods into each meal and learning to choose volumetric snacks over calorie packed snacks and beverages can have a very significant impact on satiety. As well, learning simple ways to increase the volumetric properties of recipes and even how to make volumetric choices when eating out can both be used as simple strategies to feel full after every meal and still reduce your caloric intake significantly. For those who master these principles, weight loss can be hunger free and enjoyable, even when their weight goal takes many months to achieve. That's because this is not just another diet. It is an enjoyable way of life!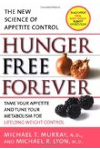 Fiber and fat filled foods promote satiety. Fiber makes you feel full because it expands in your stomach. Fatty foods increase satiety because they take long to digest. Fats and fiber both slow down the absorption of sugar. This leads to more stable blood sugars. Blood sugars play a role in determining hunger. These foods help shut off the hunger signal to your brain.
Continue Learning about Healthy Eating Guidelines